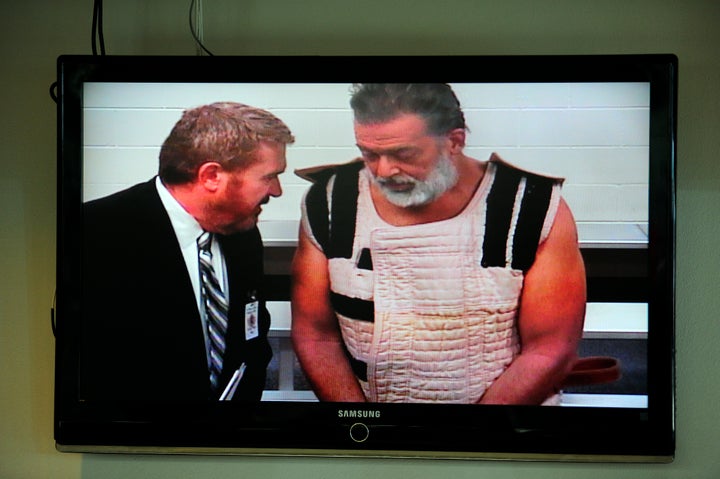 At the hearing, prosecutors laid out 179 charges -- including numerous charges of first-degree and attempted murder -- related to the shooting, which left three dead and 12 injured. They have not yet announced whether they will pursue the death penalty.
Dear said at one point on Wednesday, "You'll never know the amount of blood I saw in that place," CBS Denver reported.
He also yelled, "I will not meet with him again," likely in reference to his public defender, Dan King, according to the Denver Post.
At another point, as King discussed his client's mental state with the judge, Dear proclaimed, "I'm competent," and said he wouldn't "agree to mental health evaluations" for fear they'd "put me on psychotropic drugs [that would make me] talk like the Batman guy."
Dear appeared to be referring to James Holmes, who was found guilty earlier this year of shooting patrons in a movie theater in Aurora, Colorado, during the premiere of a Batman movie in 2012. Holmes was on various medications throughout the trial after numerous assessments determined he was mentally ill.
"We know that words matter. It is time to put an end to the dangerous rhetoric that has permeated our political conversations," Vicki Cowart, CEO and president of Planned Parenthood of the Rocky Mountains, said in a statement Wednesday. "Enough is enough -- this violence, whether inflicted with words or with weapons, cannot become our normal."
Calling all HuffPost superfans!
Sign up for membership to become a founding member and help shape HuffPost's next chapter