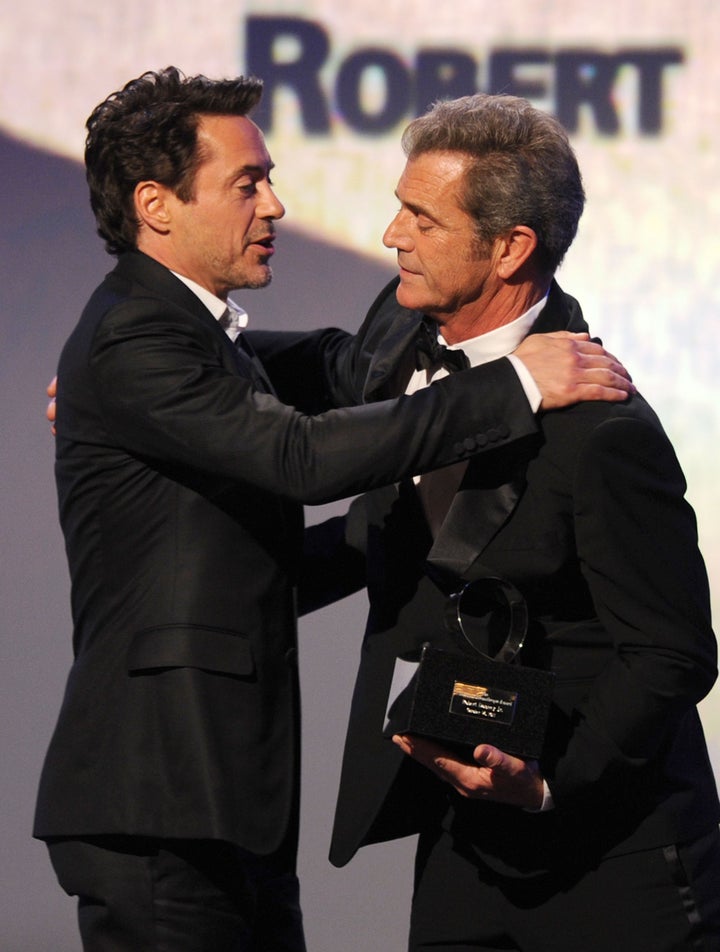 Now perhaps Hollywood's leading superhero, Robert Downey Jr. is working to swoop in and save the career of one of his best friends.
The man behind the armor of "Iron Man" and beneath the derby cap of Sherlock Holmes accepted the big prize at the American Cinematheque Awards on Friday, where the theme of the night was the remarkable turnaround that revived his own career. A teen actor and Oscar nominee in his mid-20s, Downey saw his career marred by drugs and alcohol throughout the mid-late 90s, with substance landing in rehab and jail far more often than places of honor at awards shows.
After being feted by co-stars and friends (which you can read all about at Deadline), Downey was presented his award by his "Air America" co-star Mel Gibson, who made a surprise appearance at the show.
"This is my f*ckin' time," Downey said on stage. "Mel and I have the same lawyer, same publicist and same shrink. I couldn't get hired and he cast me. He said if I accepted responsibility – he called it hugging the cactus – long enough my life would take meaning and if he helped me I would help the next guy. But it was not reasonable to assume the next guy would be him."
Then, he did just as Gibson predicted: called for forgiveness for that next guy.
"Unless you are without sin, and if you are you are in the wrong (expletive) industry, you should forgive him and let him work," he said, as relayed by Deadline.
Gibson's film with Jodie Foster, "The Beaver," was well-received by critics this year but flopped at the box office. He was recently announced as the producer and potentially director of an upcoming film about Judah Maccabee, which also raised eyebrows.
As for Downey, he'll star in this fall's "Sherlock Holmes 2," and next summer's long-awaited superhero teamup, "The Avengers," as Iron Man. He'll also remake the "Perry Mason" films, and it was just announced that he will star in "Accidental Genius."
Popular in the Community