Three men were busted Monday morning for what some might compare to Henry David Thoreau's Walden experiment, an attempt to achieve self-reliance by living simply in nature.
The Los Angeles Sheriff's Department (LASD) discovered the trio and their handmade hut while patrolling the Tujunga Ponds Wildlife Sanctuary near Pasadena, Calif. While there may be a few admiring American Lit geeks among them, the LASD deputies delivered this stern warning in a press release about the discovery: "It is illegal to be in a Los Angeles County Park after dark, let alone to build a structure and reside there."
At least one of the men, 51-year-old Robert Downs, claimed to have been living in the LA County park for over a year.
Downs' living structure, which he built using tools from a home improvement store, had tables, shelves and four built-in bunk beds. Outside the home, Downs had also constructed a rock patio, complete with a barbecue grill and tables. Deputies noted that the home even had fire extinguishers.
Downs also appears to have a bit of a green thumb; deputies discovered at least eight marijuana plants growing near his home.
The home had managed to escape detection in part because Downs had camouflaged the entire structure with felled trees, camouflage tarp and paint. A release from the LASD remarked that Downs had been so thorough that he even camouflaged the tire of a wheelbarrow.
Downs was arrested for cultivating marijuana and removing plants and trees from a county park, and he's being held in lieu of $30,000 bail. The other men who were found with him, a 30- and 45-year-old man from Sun Valley, were cited and released.
The Department of Public Works will spend the next two weeks demolishing Downs' home.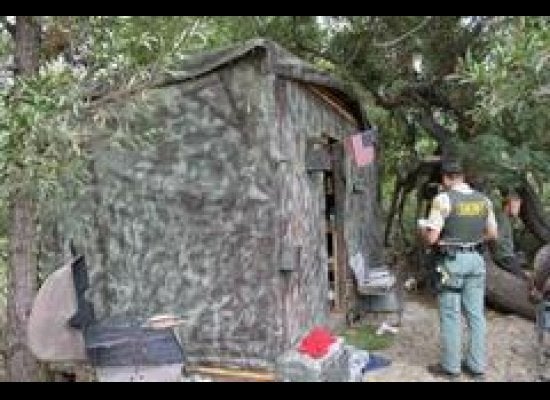 Pot Shed In LA Park
Popular in the Community