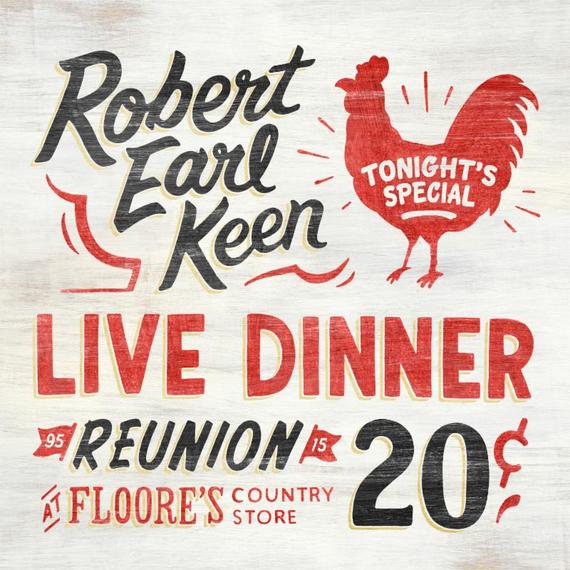 You know Robert Earl Keen is an amazing musician and entertainer. What you may not know is that he's funny. Really funny.
If you have ever heard the West Texas troubadour trading one-liners with Charlotte-based DJs John Boy and Billy on their Big Show or seen him live in concert at one of the myriad music festivals he headlines, you might have guessed he's got a sense of humor. But in one-on-one conversations, he drops one-liners faster than Jim Gaffigan.
But that doesn't mean he can't be serious. And make no mistake, he's serious about his music. But not too serious.
Keen's biggest-selling album, 1996's "No. 2 Live Dinner," was in fact an accident.
"That one was totally raw and reckless," he said in a recent phone interview. "I truly didn't intend to make a record. It was truly a grassroots kind of thing. For a year there, you could hear that record blasting out of dorm rooms, bars, cars and parties. It was warts and all but it was fun."
That's why the 60 years young musician, who has managed to create a musical genre all his own over his storied career, wanted to celebrate the 20th anniversary of the "Live Dinner Reunion" with a redux to "sound the best it could."
So Keen picked up the phone and started calling some of his friends -- Lyle Lovett, Joe Ely, Cory Morrow, Cody Canada of Cross Canadian Ragweed and The Departed, Cody Braun of Reckless Kelly and Bruce Robison -- to come and play with him at the legendary John T. Floore's Country Store (the site of the first Live Dinner) in the Texas Hill Country town of Helotes.
Throw in 5,000 appreciative fans adding their voices to the historic occasion and Keen had himself a new body of work, a rousing double-disc celebration, "Live Dinner Reunion," released Nov. 18 on Dualtone Records, an Entertainment One company. Fans can snare a double vinyl album early 2017.
"This one I had a little bit of a problem because I talked myself into being hoarse. Other than that I thought it was really cool. To me it's a personal reminder that you do get what you want. I always thought the music business is about playing with your friends. We were all back there and talking about funny stuff we had done. If I ever had a real family reunion, that was it."
Keen's clearly not afraid to take musical chances. He diverted from the music that made him a household name -- "The Road Goes on Forever," "Gringo Honeymoon," "Corpus Christi Bay" and "Not a Drop of Rain" -- in 2015 with a foray into bluegrass on the critically acclaimed "Happy Prisoner," which topped Billboard's bluegrass chart for three consecutive weeks, becoming the No. 2 best-selling bluegrass album of 2015 and making Keen the No. 2 best-selling bluegrass artist of that year.
"It's one of those things I have to say it really just came together," he says. "I've made so many records that always seem uphill and this was so easy and fun. And people really liked it. These are songs I never really planned on singing in front of anybody. I played these songs when I was learning music." Three songs from that studio album appear on "Live Dinner Reunion" -- "Hot Corn, Cold Corn, "Ninety-Nine Years for One Dark Day" and "T for Texas," a duet with Lyle Lovett.
Two musicians who played on "Happy Prisoner" and the album tour joined Keen's touring band -- The Greencards founding member Kym Warner, a four-time winner of the Australian National Bluegrass Mandolin Championship, and fiddler Brian Beken, front man for MilkDrive. His long-time band members are guitarist Rich Brotherton, bassist Bill Whitbeck, drummer Tom Van Schaik and steel guitarist Marty Muse. "The band has a real fat sound now," Keen said.
To recreate the unique vibe of the original live album, he returned to Floore's, a Texas-style dance hall and cafe with a storied history reaching back to 1942.
"Robert Earl Keen's show at Floore's Country Store celebrating the 20th anniversary of the quintessential 'No. 2 Live Dinner' was the stuff of honky-tonk legend," Mark McKinney said about Floore's in a release. "A night that reminded us why we love live music."
When his career was just taking off in 1990, Keen finally landed a gig at Floore's. Now he returns there once a year. "I've always had a great time there," he says. "I really love that place, the whole outdoor space where everybody can move around."
Keen, a member of the Texas Heritage Songwriters Hall of Fame, also speaks fondly of Floore's during the banter between songs on the album, saying it's one of the last open-air honky-tonks in the United States and even in Texas, which is known for its dance halls. "I literally played one time and got offstage, and the whole ceiling dropped out of the clouds and it just rained and rained and rained," he says on the album.
From "No. 2 Live Dinner," Keen revisits the classics "Gringo Honeymoon," "Amarillo Highway" and the cheerfully dysfunctional holiday of "Merry Christmas From the Fam-O-Lee." Others include "Corpus Christi Bay," "Wild Wind" with Cody Braun, "Lonely Feelin'" with Cody Canada, "Feelin' Good Again" and "I Gotta Go."
Then there's the "Ding Dong Daddy From Dumas," a western swing tune that Keen covered on Asleep at the Wheel's latest tribute album to Bob Wills. It features Keen's original bandmates drummer Mark Paterson and fiddler Bryan Duckworth, Keen's friend since third grade.
As at all Keen's concerts, "Live Dinner Reunion" closes with "The Road Goes on Forever." This time Joe Ely, who covered the song on his 1992 album Love and Danger, sings the lead and closes it by saying, "Robert Earl Keen - thank you for writing that song."
Ely didn't have to thank him for the reunion. The crowd says it all, chanting, "Robert Earl Keen, Robert Earl Keen, Robert Earl Keen ..." as the album fades out.
Keen says he feels like the audience in entertainment and music is like the Texas A&M Aggies 12th man in football. "The band is no good without the audience. They'll be with you unless you have a crappy attitude. I am all about being there (with the audience)."
Now he is working on songs he hopes will resonate with Generation Y. "Short songs," he says. "Snapchat songs, 90 seconds. Less is more. I'm working on a whole pile. Occasionally I'll put one or two in a show but most I have kept in my back pocket. It's going to take three times as many songs to fill an album. Sometimes I think this is stupid, but I keep writing them."
Keen is enjoying this project that he started because he thinks so many songs are too manufactured today, and artists overwork the length. "People duplicate over and over," he explains. "Some of the songs all really good. These songs have a real point and also a point not to be belabored. One is called, 'Our Municipal Airport' and one is called 'The Bamboo Panda" about a Chinese restaurant."
It's not too late to catch Keen's "Merry Christmas from the Fam-O-Lee" live at 7:30 p.m. on Wednesday, Dec. 28, the historic Ryman Theatre in downtown Nashville, Tennessee, along with The Doyle & Debbie Show.
"This show is going to be epic," he says. "We're doing family gold jamboree where everyone in the band is a different iconic country figure. And we have the great Doyle and Debbie Show. It couldn't be better."
Calling all HuffPost superfans!
Sign up for membership to become a founding member and help shape HuffPost's next chapter