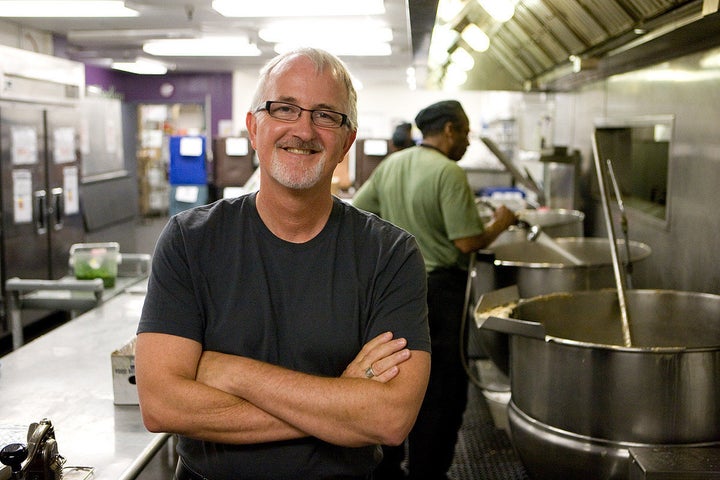 "I looked at the homeless men and women and thought, we can shorten the line if we make them part of the process," he said.
In the late 1980s, when Robert proposed the idea to take donated food from restaurants and train the homeless to cook it, people were skeptical.
"They were stuck in an old fashioned kind of charity. They had all these different reasons of why it wouldn't work. People would tell me, 'you can't train the homeless.' I was shocked by that," he said.
But Robert was determined. With a James Brown song as his mantra, "Open Up The Door I'll Get It Myself," he spent months applying for grants and appealing to donors. Finally, he got a $25,000 grant, bought a refrigerated truck and opened DC Central Kitchen. At the time, he wasn't sure exactly how it would all work.
"I was making it up, no one had really done this before," he said. But people came. "Men and women who were alcoholics and heroin addicts, then crack addicts," he said. And they kept coming. "In 1996, we had welfare reform and a lot of women who had never worked before needed jobs. Now we're dealing with felons," he said.
The Kitchen also attracts some of D.C.'s biggest names to volunteer. The day President Clinton came remains in Robert's memory as an example of the power the kitchen has to get the well-off to rub elbows with the down-and-out.
"Clinton didn't know how to cut a carrot," Robert said. "It was up to a student in the basement of a shelter to teach the President how to cut a carrot. That's the power of what we do. We show that everybody has a role to play and everybody has value. We don't fight hunger as much as we fight stereotypes," he said.
The organizations that Robert started do, in fact, also fight hunger. Everyday, the DC Central Kitchen takes 3,000 pounds of good food that would otherwise get thrown out and turns it into 4,500 meals that are served at shelters and addiction recovery centers. The Campus Kitchens project replicates DC Central Kitchen's model at 26 high schools and college campuses across America, teaching students to cook recovered cafeteria food and serve it to those in need. Combined, the kitchens are steadily fighting back against the food insecurity 50 million Americans, including 10 million children under the age of six, face.
But the kitchen also fights the stereotype that nonprofit organizations cannot be financially self-sustaining without donations.
"Right now, we're forcing people to choose between being a .org or a .com," Robert said. "The future is a hybrid, like economic Buddhism. We can take a middle road and do both."
Two unique aspects of Robert's organization allow it to walk this middle road. The DC Central Kitchen launched Fresh Start, a catering employment project, to generate revenue. Fresh Start currently generates 50 percent of the Kitchen's funding -- the rest come from grants and donations -- by buying fresh food from local farmers and successfully competing in Washington D.C.'s catering market. Fresh Start also provides made-from-scratch meals for seven elementary schools as part of a pilot project to improve the quality and nutrition of what students eat.
Secondly, the kitchen's Culinary Training Program trains dozens of Washington D.C. residents who are homeless, poor and convicted felons each year. Robert's "ragtag army of food lovers and badasses" learn to work in the food industry. The training program aims to get at the root problems that cause hunger.
"Hunger is so not about food -- hunger is a symptom. Hunger is about wage, it's about being in prison," he said.
The culinary arts training program keeps people employed and out of prison, according to Robert. He claims the recidivism rate for people who go through his program is 3 percent, considerably less than the national estimate of roughly two-thirds, according to the Bureau of Justice Statistics. They boast an 80 percent job placement rate upon graduation and a 73 percent job retention rate after six months of employment, generating $200,000 in payroll taxes versus costing tax payers and the government money spent on social services and incarceration, according to Robert.
More recently, Robert has turned his attention to starting a television show to share his belief that nonprofit organizations can be a vibrant economic force.
"I want to say to Americans: Follow me! No other country in the world has 90 million people volunteering and gives $300 billion in annual donations. This is deeply part of who we are, and there are breath taking models, people experimenting with micro-credit. The sector is innovating rapidly and I want to show people that to inspire them," he said.
REAL LIFE. REAL NEWS. REAL VOICES.
Help us tell more of the stories that matter from voices that too often remain unheard.