LOS ANGELES -- Next month's opening of the Robert F. Kennedy Community Schools will be auspicious for a reason other than its both storied and infamous history as the former Ambassador Hotel, where the Democratic presidential contender was assassinated in 1968. With an eye-popping price tag of $578 million, it will mark the inauguration of the nation's most expensive public school ever.
The K-12 complex to house 4,200 students has raised eyebrows across the country as the creme de la creme of "Taj Mahal" schools, $100 million-plus campuses boasting both architectural panache and deluxe amenities.
Scroll through to see LA's other "Taj Mahal" schools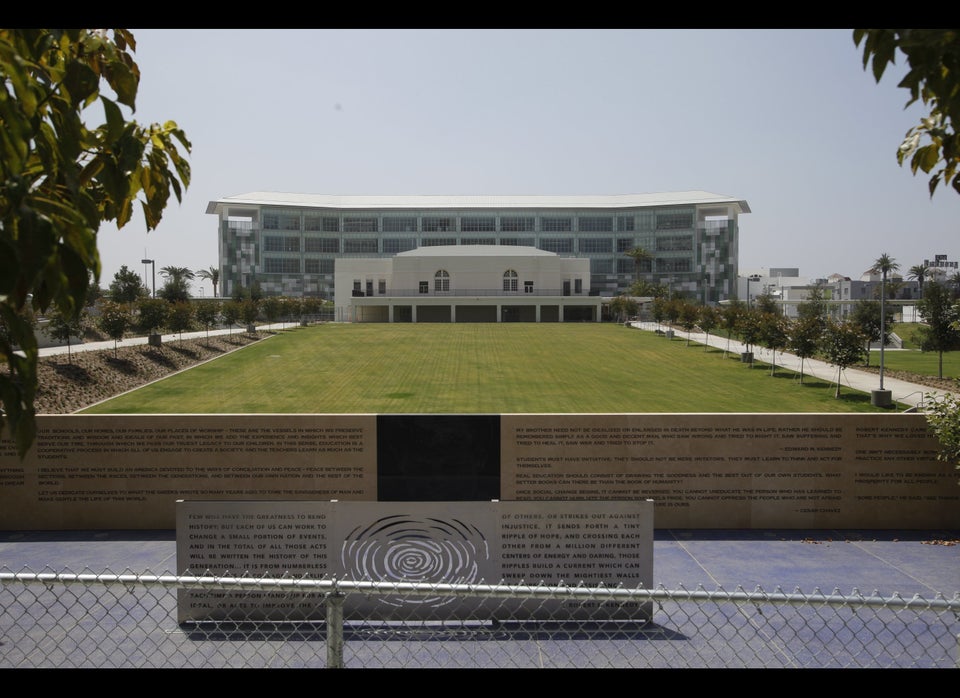 Taj Mahal Schools
"There's no more of the old, windowless cinderblock schools of the '70s where kids felt, 'Oh, back to jail,'" said Joe Agron, editor-in-chief of American School & University, a school construction journal. "Districts want a showpiece for the community, a really impressive environment for learning."
Not everyone is similarly enthusiastic.
"New buildings are nice, but when they're run by the same people who've given us a 50 percent dropout rate, they're a big waste of taxpayer money," said Ben Austin, executive director of Parent Revolution who sits on the California Board of Education. "Parents aren't fooled."
At RFK, the features include fine art murals and a marble memorial depicting the complex's namesake, a manicured public park, a state-of-the-art swimming pool and preservation of pieces of the original hotel.
Partly by circumstance and partly by design, the Los Angeles Unified School District has emerged as the mogul of Taj Mahals.
The RFK complex follows on the heels of two other LA schools among the nation's costliest – the $377 million Edward R. Roybal Learning Center, which opened in 2008, and the $232 million Visual and Performing Arts High School that debuted in 2009.
The pricey schools have come during a sensitive period for the nation's second-largest school system: Nearly 3,000 teachers have been laid off over the past two years, the academic year and programs have been slashed. The district also faces a $640 million shortfall and some schools persistently rank among the nation's lowest performing.
Los Angeles is not alone, however, in building big. Some of the most expensive schools are found in low-performing districts – New York City has a $235 million campus; New Brunswick, N.J., opened a $185 million high school in January.
Nationwide, dozens of schools have surpassed $100 million with amenities including atriums, orchestra-pit auditoriums, food courts, even bamboo nooks. The extravagance has led some to wonder where the line should be drawn and whether more money should be spent on teachers.
"Architects and builders love this stuff, but there's a little bit of a lack of discipline here," said Mary Filardo, executive director of 21st Century School Fund in Washington, D.C., which promotes urban school construction.
Some experts say it's not all flourish and that children learn better in more pleasant surroundings.
Many schools incorporate large windows to let in natural light and install energy-saving equipment, spending more upfront for reduced bills later. Cafeterias are getting fancier, seeking to retain students who venture off campus. Wireless Internet and other high-tech installations have become standard.
Some pricey projects have had political fallout.
After a firestorm over the $197.5 million Newton North High School in Massachusetts, Mayor David Cohen chose not to seek re-election and state Treasurer Timothy Cahill reined in school construction spending.
Now to get state funds for a new school, districts must choose among three designs costing $49 million to $64 million. "We had to bring some sense to this process," Cahill said.
In Los Angeles, officials say the new schools were planned long before the economic pinch and are funded by $20 billion in voter-approved bonds that do not affect the educational budget.
Still, even LA Unified Superintendent Ramon Cortines derided some of the extravagance, noting that donations should have been sought to fund the RFK project's talking benches commemorating the site's history.
Connie Rice, member of the district's School Bond Oversight Committee, noted the megaschools are only three of 131 that the district is building to alleviate overcrowding. RFK "is an amazing facility," she said. "Is it a lot of money? Yes. We didn't like it, but they got it done."
Construction costs at LA Unified are the second-highest in the nation – something the district blames on skyrocketing material and land prices, rigorous seismic codes and unionized labor.
James Sohn, the district's chief facilities executive, said the megaschools were built when global raw material shortages caused costs to skyrocket to an average of $600 per square foot in 2006 and 2007 – triple the price from 2002. Costs have since eased to $350 per square foot.
On top of that, each project had its own cost drivers.
After buildings were demolished at the site of the 2,400-student Roybal school, contaminated soil, a methane gas field and an earthquake fault were discovered. A gas mitigation system cost $17 million.
Over 20 years, the project grew to encompass a dance studio with cushioned maple floors, a modern kitchen with a restaurant-quality pizza oven, a 10-acre park and teacher planning rooms between classrooms.
The 1,700-student arts school was designed as a landmark, with a stainless steel, postmodernistic tower encircled by a rollercoaster-like swirl, while the RFK site involved 15 years of litigation with historic preservationists and Donald Trump, who wanted to build the world's tallest building there. The wrangling cost $9 million.
Methane mitigation cost $33 million and the district paid another $15 million preserving historic features, including a wall of the famed Cocoanut Grove nightclub and turning the Paul Williams-designed coffee shop into a faculty lounge.
Sohn said LA Unified has reached the end of its Taj Mahal building spree. "These are definitely the exceptions," he said. "We don't anticipate schools costing hundreds of millions of dollars in the future."
Support HuffPost
The Stakes Have Never Been Higher
Related
Popular in the Community