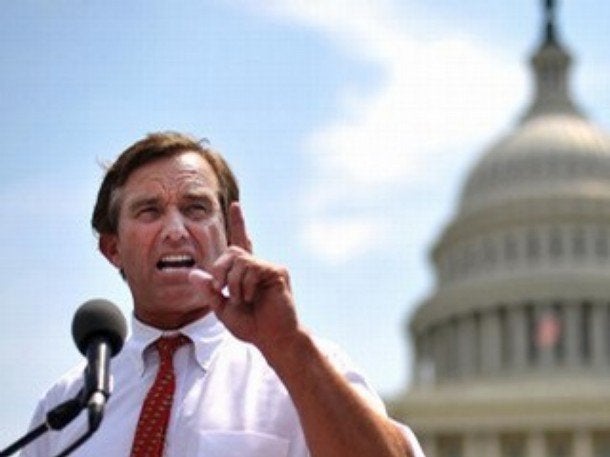 Expressing deep satisfaction -- almost relief -- with the election of Barack Obama yesterday, Robert Kennedy Jr., the longtime environmental activist and member of the Democratic Party's most cherished family, said he would serve the next president if asked.

"You know what, I would be of service in any way that the administration asked me to be," Kennedy told the Huffington Post. "But I am also very happy and I believe I am being effective doing the stuff I am doing currently."
President-elect Barack Obama is strongly considering Robert F. Kennedy Jr. to head the Environmental Protection Agency, a Cabinet post, Democratic officials told Politico.

...

The selection of Kennedy would be a shrewd early move for the new presidential team. Obama advisers said the nomination would please both Sen. Hillary Rodham Clinton (D-N.Y.) and Sen. Edward M. Kennedy (D-Mass.).

It also would raise the profile of the EPA, which would help endear Obama to liberals who may be disappointed on other issues important to the Democratic left because of budget restrictions.

The EPA enforces clean air and clear water laws. Kennedy, an environmental lawyer and son of the late senator and attorney general Robert F. Kennedy, has long championed a cleaner water supply for New York City.

As an officer and attorney for the environmental watch group Riverkeeper, Kennedy has taken on governments and companies for polluting the Hudson River and Long Island Sound.
Popular in the Community