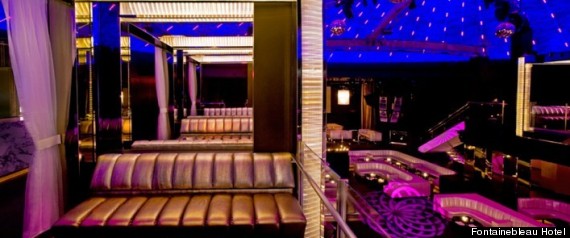 MIAMI, March 8 (Reuters) - New York media mogul Robert F.X. Sillerman is the new entertainment king of Miami Beach after taking over almost all of the famous South Florida island-city's glitzy, over-the-top nightclubs in a push to consolidate the fast-growing electronic dance music (EDM) industry.
Two Miami companies, The Opium Group and Miami Marketing Group, which own eight nightclubs, including LIV inside the historic, art deco Fontainebleau Hotel, were recently purchased by Sillerman, according to a spokesman.
The deals, in which terms were not disclosed, are the latest move by Sillerman to corner the EDM market, after saying in June last year that he was willing to spend more than $1 billion buying up EDM promoters and event organizers.
EDM is rapidly growing in popularity in the U.S. and abroad, popularized by nightclub DJs featuring acts by Lady Gaga, Katy Perry and Pitbull.
Sillerman's stake in the Miami club scene gives him a presence in a major EDM market and home of the Ultra Music Festival, one of the biggest in the world, with eight stages and more than 230,000 attendees last year.
This year's Ultra event in Miami promises to be even bigger, and has expanded to two consecutive 3-day weekends later this month. Sillerman has no ties to the event.
Sillerman's quest echoes his business strategy from the late 1990s when his company, SFX Entertainment, consolidated a large number of concert promoters, producers and venues and was bought by Clear Channel in 2000 for $4.4 billion.
In January, Sillerman's revived SFX Entertainment purchased the North American division of Holland-based ID&T Entertainment, the world's largest dance music concert promoter. ID&T runs a three-day festival in Belgium called Tomorrowland and Sensation White, an EDM concert series held across Europe that made its U.S. debut at the Barclays Center in Brooklyn last October.
Tomorrowland producers plan to hold their first festival outside of Belgium, called Tomorrow World, somewhere in North America in late September.
SFX has also acquired several other EDM assets in recent weeks, including New Orleans-based EDM promoter Donnie Disco Presents and Life in Color, which puts on day-glow-paint-soaked EDM concerts across the U.S. Last week, SFX took over the Denver-based music site Beatport, a major download store for EDM with a catalog of more than one million tracks, the New York Times reported.
"He's the entrepreneurial type, looking for different avenues to bring in his management aggregation strategy," said Mark Fratrik, vice president and chief economist for media consultancy BIA/Kelsey. "I imagine he could do the same thing ... it seems like this is another combining of the events with the music."
SFX, LIVE NATION EXPAND EDM REACH
Sillerman first began buying radio stations in the late 1970s and sold a block of 10 stations to Westinghouse Broadcasting for $400 million in 1989. He later launched SFX Broadcasting which went public in 1993 and grew even larger when the Telecommunications Act of 1996 lifted the cap on the number of stations a company could own in a single market. In 1997, the company was sold for $2.1 billion to Capstar Broadcasting Corp, a company formed by the Hicks brothers.
Sillerman then started a new public company called Marquee Group Inc, which bought up agencies that represented professional sports and music stars, and SFX Entertainment through which he acquired concert venues and promoters.
SFX Entertainment was sold to Clear Channel in 2000 for $4.4 billion and was widely recognized as the precursor to the now massive concert promoter and producer Live Nation.
Sillerman went on to form CKX Inc, which bought 85 percent of Elvis Presley Enterprises, including the rock-and-roll legend's Graceland mansion, and 100 percent of Simon Fuller's 19 Entertainment, producer of American Idol.
"He's been extremely successful in consolidating fragmented industries which have untapped growth potential that generally have excellent marketing opportunities attached to them," said Mike Principe, a former SFX attorney who is now CEO of The Legacy Agency. "He goes in, acquires en masse, and enjoys a leading position."
Sillerman isn't the only one trying to bring the booming slice of the music industry under one flag. In May 2012, Live Nation purchased Cream Holdings Limited, which produces EDM events in the U.K. and Australia.
Cream Founder and CEO James Barton became head of Live Nation Electronic Music tasked with expanding the company's reach in EDM around the world. Both SFX and Live Nation have been reportedly courting Los Angeles-based Insomniac.
The company's signature event, Electric Daisy Carnival, drew more than 230,000 revelers to the Las Vegas Motor Speedway in the summer of 2012 and has spawned satellite festivals in cities around the U.S. (Editing by David Adams, Bernard Orr)
Calling all HuffPost superfans!
Sign up for membership to become a founding member and help shape HuffPost's next chapter
BEFORE YOU GO