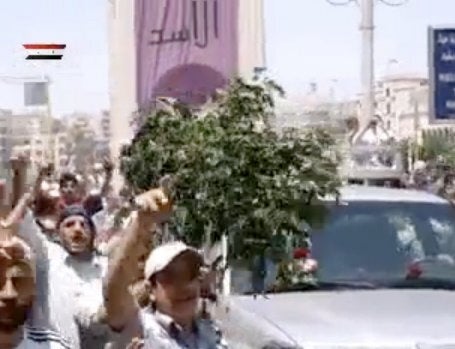 U.S. Ambassador to Syria Robert Ford sparked a row with the Syrian government when he visited protesters in the embattled city of Hama on Thursday.
Ford was joined on Friday by French envoy Éric Chevallier, the New York Times reports. The visit was seen as a boon to protesters, with activist Omar al-Habbal telling the Times, "Residents feel a kind of protection with the presence of the ambassador. The authorities wouldn't dare react with violence."
The Syrian government has condemned the visit as a provocation. "The presence of the U.S. ambassador in Hama without obtaining prior permission from the Foreign Ministry as stipulated by instructions distributed repeatedly to all the embassies is clear evidence of the U.S. involvement in the ongoing events in Syria," state media reported, citing an unnamed source at the Foreign Ministry, according to the AP.
While foreign journalists have been expelled from Syria, the videos below reportedly shows protesters greeting Ford with rose petals while holding olive branches:
Related
Popular in the Community