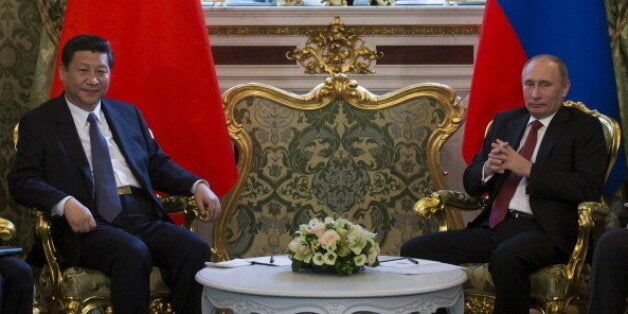 Former U.S. Defense Secretary Robert Gates said Wednesday that China and Russia are becoming more aggressive as they perceive the U.S. pulling back from world affairs.
"With all the talk of coming home, of nation building at home, the perception has grown increasingly around the world that the U.S. is pulling back from the global responsibilities that it has shouldered for many decades," Gates told CNN host Fareed Zakaria during a conversation hosted by the Council on Foreign Relations in New York City. "I believe Russia and China, among others, see that void and are moving to see what advantage they can take of it.
"They're not going to challenge us in a way that would produce a conflict, but as they perceive our unwillingness to commit overseas, our unwillingness to make tough decisions, as in Syria, I think they see opportunities to pursue their own nationalist ambitions and to take other actions that are self-aggrandizing," Gates said.
He said that in the early 1970s, then-President Richard Nixon and Secretary of State Henry Kissinger dealt with America's loss in Vietnam by reaching out to the Soviet Union and Maoist China, making it clear that the U.S. was going to remain the "big dog." "We were going to be in charge because we had better relations with the Soviets and better relations with the Chinese than they had with each other," Gates said. "There are no such opportunities now."
Coincidentally, China on Wednesday signed a landmark deal to buy Russian natural gas worth about $400 billion.
Gates, now the chancellor at the College of William and Mary in Williamsburg, Virginia, directed the Defense Department for 4 1/2 years under both President Barack Obama and former President George W. Bush. He served as director of the CIA under President George H.W. Bush.
Gates said that China has become "significantly more aggressive" over the last two years. He cited China's declaration of its air defense zone, its recent confrontation with Vietnam ignited by its installation of an oil rig in disputed waters, and its "increasingly aggressive approach" of using both ships and aircraft to challenge the Japanese over the Senkaku Islands.
"Two years ago, I don't think the potential for a true military conflict of any size between China and Japan was on anybody's radar. The fact that it is now is a measure of how far we've come," Gates said. "The area is becoming increasingly dangerous."
He said Southeast Asian countries should band together -– along with the U.S. -- to speak out against Chinese aggression. He said this happened in 2010, when Secretary of State Hillary Clinton was at an ASEAN meeting in Hanoi and at least seven or eight Southeast Asian countries denounced China's aggression. Gates noted that China President Xi Jinping -- more than his predecessor, Hu Jintao -- is very much in charge of China's military actions.
Regarding this week's U.S. charges that Chinese officials engaged in cyberspying on American businesses, Gates said stealing American secrets and technology is not new and is done by probably a dozen countries. Second to the Chinese, the French may be the most capable in this regard, he said. For years, Gates said, French intelligence agents would break into American businessmen's hotel rooms and steal information from their laptops.

Gates said the U.S. is "nearly alone in the world" in not using its intelligence services for commercial purposes. "When I was director of the CIA, the CIA produced an enormous amount of information on infrastructure of other countries … that any company wanting to build a factory in a foreign country would love to have," he said. "I worked with five or six different secretaries of commerce and never could get one of them interested in … getting that kind of CIA information to American companies."
He said another type of cyberattack, which causes denial of service or capability, is being developed by a number of countries and is a worry. However, he said it's hard to imagine a nation state using it against the U.S. because the origin of the attack can eventually be determined -- down to a home address.
Short of such state-to-state cyberattack, he said, "the biggest threat to infrastructure and to denial of service is global organized crime and terrorists. When it comes to terrorists, we've seen they can be pretty sophisticated in their use of computers and who is to say … they can't cyberattack?"
Regarding the crisis in Ukraine, Gates said that Russian President Vladimir Putin wants to exert control over Ukraine and the Baltic states, but will not annex them. "The last thing Putin wants is to recreate the Soviet Union. He does not want to take on responsibility for so many of those economic basket cases, including Ukraine," Gates said. Instead, he said, Putin "won't rest" until the Ukrainian government is more sympathetic to Russia than to the West.
Gates said Ukraine is "almost wholly" economically dependent on Russia, which is destabilizing for Ukraine. He noted that, before the crisis in Ukraine, Russia staked out about 26,000 square miles for oil and gas exploitation in the northeastern Black Sea. With the recent annexation of Crimea, Russia acquired 36,000 more square miles, Gates said, which made Ukraine even more economically dependent on Russia. He predicted that Putin will continue to economically squeeze the Baltic states.
Gates said Putin's pledge to protect Russian minorities abroad is "loose." "It's where [Putin] feels like Russians are being persecuted or there is a prejudice against them and or rules that disadvantage them that he will, at a minimum, have his intelligence officers in there working the problem," he said.
"I think [Putin's] playing the long game. Even under the Russian constitution, he can be president until 2024," Gates said. "He will press forward when he thinks it's safe to do so, and he'll pull back when he thinks he need to so."
Related
Popular in the Community