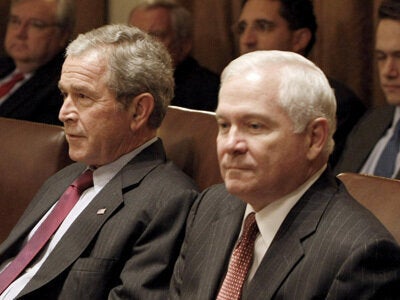 At a news conference today, Obama introduced his picks of retired Marine Gen. James Jones as White House national security adviser, former Justice Department official Eric Holder as attorney general, Arizona Gov. Janet Napolitano as secretary of homeland security, Susan Rice as UN Ambassador, Hillary Clinton as Secretary of State and Robert Gates as Secretary of Defense
Mr. Gates, who served as C.I.A. director under the first President Bush, would not have to be reconfirmed by the Senate. The prospect of retaining him generated praise from the military establishment and Capitol Hill, where he is viewed as a pragmatist who turned the Pentagon around after the tumultuous tenure of Donald H. Rumsfeld.

But it also stirred a debate inside Mr. Obama's circles, where some advisers worried that the decision to turn to a Republican appointee -- something President Bill Clinton did in naming William S. Cohen to the defense post in 1997 -- would reinforce the notion that Democrats could not manage the military. "It makes them look like they're too wimpy to be trusted to run the building," said one adviser who asked not to be named.
Retaining Gates provides stability for a stretched military fighting two wars during the turbulent changeover in administrations. Gates once said it was inconceivable that he would stay on past the close of Bush's term on Jan. 20.

But the 65-year-old former spymaster had recently turned mum in public on the circumstances under which he would stay, even briefly, in an Obama administration.
There was very strong support for Gates among Democrats, said one Democratic source in the Senate whose boss was intimately involved in bringing Obama and Gates together to see if they were compatible...

Gates will continue to preside over two U.S. wars, in Iraq and Afghanistan, that Bush launched as part of the larger war on terror.
Politico now reports that Gates has agreed to stay on as defense secretary into President-elect Barack Obama's first term. They also report that the news will be announced early next week along with other national security nominations, including the pick of Hillary Clinton as secretary of state.
ABC now reports that the Gates selection is "a done deal":
Gates, while a registered independent, has served numerous Republican administrations. President George W. Bush nominated Gates to replace the Donald Rumsfeld after the 2006 midterm elections, when the war in Iraq was spiraling out of control.

The former Eagle Scout is expected to be rolled out immediately after the Thanksgiving Holiday weekend as part of a larger national security team expected to include Sen. Hillary Clinton, D-NY, as Secretary of State; Marine Gen. Jim Jones (Ret.) as National Security Adviser; Admiral Dennis Blair (Ret.) as Director of National Intelligence; and Dr. Susan Rice as U.S. Ambassador to the United Nations.
The Washington Post reports that Defense Secretary Robert Gates and Barack Obama's transition team are meeting Thursday:
Defense Secretary Robert Gates is scheduled to meet Thursday with President-elect Barack Obama's Pentagon agency review transition team leaders, John White and Michele Flournoy, a Pentagon spokesman said today. The team began working at the Pentagon on Monday.

"We are totally committed to ensuring the transition of leadership in this department is as smooth and seamless as can be. The troops on the front lines in Iraq and Afghanistan deserve it and our nation's security demands it," said Pentagon press secretary Geoff Morrell at a press briefing.
The Financial Times today reports that Obama is in talks with current Defense Secretary Robert Gates about keeping his position beyond President Bush's tenure.
Mr Obama, through an intermediary, has approached Mr Gates, who has served as defence secretary under President George W. Bush since 2006, about accepting the position, which would place a respected Republican appointee in his cabinet.

According to a source familiar with the situation, Mr Gates is seriously weighing the option. The two men are ironing out policy and personnel issues before a final offer could be made.
During this critical point in the US' transfer of military power to Iraq, most pundits think that keeping Gates would be a shrewd move on Obama's part, and Gates has said that he's prepared to stay in his position if the president-elect asks him. Bloomberg reported earlier that the odds of Obama keeping Gates at defense were much better with his reported selection of Hillary Clinton as secretary of state.
Robert Gates was recently praised by US News And World Report as one of America's best leaders. The article praised Gates' recognition of the "soft power" of America's military.
In the speech, Gates told officers that in 42 years of service, he had learned two big things: a sense of humility and an appreciation of limits. "Not every outrage, every act of aggression, every crisis can or should elicit an American military response," he said, advising them to "be modest about what military force can accomplish and what technology can accomplish."

High-tech "transformation" was a Rumsfeld hallmark. Gates's goal is "exactly the opposite," says Stephen Biddle, a senior fellow at the Council on Foreign Relations. "Less capital intensive, more labor intensive, with an emphasis on patience and lots and lots of close contact with civilians." It is a remarkable repudiation of Rumsfeld's rather disdainful "We don't do nation-building" remark as Iraq was falling apart after the 2003 U.S. invasion.
Time Magazine recently discussed the pros and cons of keeping Robert Gates at Defense. A few pros:
Keeping Gates as the Defense Secretary would allow him to continue his push to focus the military's efforts on insurgencies of the type it's facing in Iraq and Afghanistan, rather than on the hypothetical conventional wars for which it would prefer to plan -- and for which it continues to order up costly weapons. (But continuity would also keep Pentagon spending, already at World War II levels, climbing into the stratosphere on autopilot.)

Keeping Gates would allow Obama to demonstrate bipartisanship in national security, an area particularly dear to Republicans. (But it might also be taken as a sign that the Democratic bench on military matters is so weak the party has to rely on a holdover from a GOP Administration.)
Robert Gates has an extensive biography at the Pentagon's website:
Prior to assuming the presidency of Texas A&M on August 1, 2002, he served as Interim Dean of the George Bush School of Government and Public Service at Texas A&M from 1999 to 2001.

Secretary Gates served as Director of Central Intelligence from 1991 until 1993. Secretary Gates is the only career officer in CIA's history to rise from entry-level employee to Director. He served as Deputy Director of Central Intelligence from 1986 until 1989 and as Assistant to the President and Deputy National Security Adviser at the White House from January 20, 1989, until November 6, 1991, for President George H.W. Bush.
Calling all HuffPost superfans!
Sign up for membership to become a founding member and help shape HuffPost's next chapter