WASHINGTON -- A 16-year-old American boy killed in an Obama administration drone strike "should have [had] a far more responsible father," Obama campaign senior adviser Robert Gibbs says in a new video released by the group We Are Change.
Abdulrahman al-Awlaki was the son of Anwar al-Awlaki, an al Qaeda propagandist killed by a U.S. drone a year ago. But the child was killed in a separate strike some two weeks after his father was killed. Gibbs wasn't entirely familiar with the situation, and didn't know that al-Awlaki's son was killed two weeks after his father was killed, a person familiar with his thinking at the time he was interviewed told HuffPost. We Are Change bills itself as a non-partisan media organization "working to expose corruption."
"I would suggest that you should have a far more responsible father if they are truly concerned about the well being of their children. I don't think becoming an al Qaeda jihadist terrorist is the best way to go about doing your business," Gibbs, the former White House press secretary, told the interviewer from We Are Change, when asked to justify "an American citizen that is being targeted without due process, without trial -- and, he's underage, he's a minor."
Gibbs had initially attempted to wave off a question about the boy. "I'm not going to get into Anwar al-Awlaki's son. I know that Anwar al-Awlaki renounced his citizenship, did great harm to people in this country." Anwar Al-Awlaki, born and educated in the U.S., was a senior al Qaeda recruiter and propagandist, American authorities have said.
But the reporter pressed him, noting that the teen had not renounced his citizenship and was underage. The Atlantic suggests that if Gibbs is giving the genuine rationale for the killing, it's grounds for impeachment.
"Again, note that this kid wasn't killed in the same drone strike as his father," writes The Atlantic's Conor Friedersdorf. "He was hit by a drone strike elsewhere, and by the time he was killed, his father had already been dead for two weeks. Gibbs nevertheless defends the strike, not by arguing that the kid was a threat, or that killing him was an accident, but by saying that his late father irresponsibly joined al Qaeda terrorists. Killing an American citizen without due process on that logic ought to be grounds for impeachment."
Friedersdorf also notes the distinction that al-Awlaki's son was not killed as a consequence of the strike against the father, but was hit separately. Esquire's Tom Junod covered the son's killing:

He was a boy who hadn't seen his father in two years, since his father had gone into hiding. He was a boy who knew his father was on an American kill list and who snuck out of his family's home in the early morning hours of September 4, 2011, to try to find him. He was a boy who was still searching for his father when his father was killed, and who, on the night he himself was killed, was saying goodbye to the second cousin with whom he'd lived while on his search, and the friends he'd made. He was a boy among boys, then; a boy among boys eating dinner by an open fire along the side of a road when an American drone came out of the sky and fired the missiles that killed them all.

Gibbs' comments were released the same day The Washington Post published an expose on the White House's growing database of people it believes it has the authority to kill without trial.
The American Civil Liberties Union warned Wednesday in a response that the policy of "bureaucratized paramilitary killing" is illegal and will backfire.
"Anyone who thought U.S. targeted killing outside of armed conflict was a narrow, emergency-based exception to the requirement of due process before a death sentence is being proven conclusively wrong," said Hina Shamsi, director of the American Civil Liberties Union's National Security Project, in a statement. "The danger of dispensing with due process is obvious because without it, we cannot be assured that the people in the government's death database truly present a concrete, imminent threat to the country. What we do know is that tragic mistakes have been made, hundreds of civilian bystanders have died, and our government has even killed a 16-year-old U.S. citizen without acknowledging, let alone explaining his death. A bureaucratized paramilitary killing program that targets people far from any battlefield is not just unlawful, it will create more enemies than it kills."
Before You Go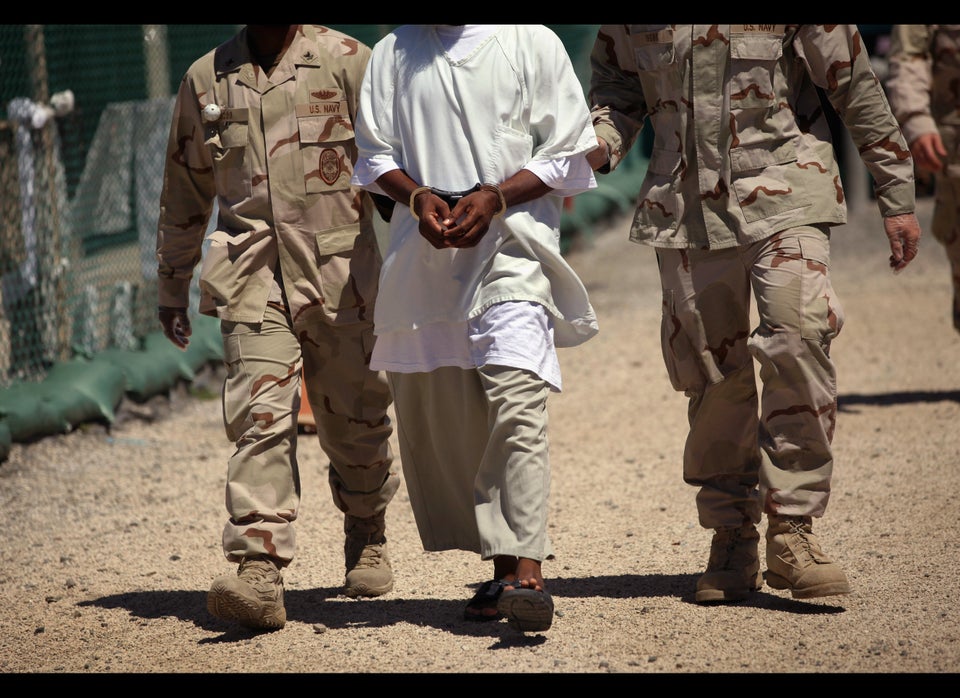 Guantanamo Bay Revelations From WikiLeaks
Popular in the Community