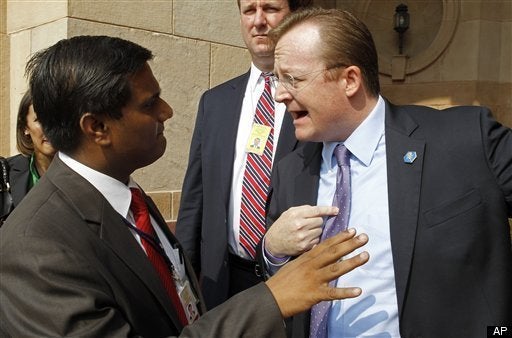 White House Press Secretary Robert Gibbs grew so angry with Indian security officials on Sunday that he got into a heated shouting match with them -- and even blocked a door they were trying to close with his foot.
The altercation came during the third day of President Obama's visit to the country. Indian officials, citing security, attempted to cut the number of White House reporters who would be allowed to cover a meeting between Obama and Indian Prime Minister Manmohan Singh.
From the White House press pool report, written by Scott Wilson of the Washington Post:
More conflict between White House pool and Indian security, this time requiring intervention by Robert Gibbs.

Indian officials decided to cut agreed-upon number of WH pool allowed into spray of extended bilat [bilateral meeting] from eight to five. Katie Lillie and other U.S. officials lobbied hard for the eight, but no luck until Gibbbs announced loudly and persistently on steps of Hyderabad House that he would pull POTUS of bilat with PM Singh unless "the White House 8," as we've come to be known, were all allowed in. At one point, Gibbs literally had his foot lodged in the closing front door, asking if the Indian security officials pushing hard to shut it were going to break his foot.

More angry words ensued, and after Gibbs convinced them, through high volume and repetition, that he was serious about pulling POTUS, we all made it inside, to hold with larger Indian press contingent, for start of extended bilat. Finally escorted into spray at 11:55am. Delegations seated opposite each other along a long light-wood table, beneath a simple chandelier. POTUS and PM Singh sat across from each other at table's middle.
Politico reports that the confrontation comes on the heels of repeated clashes between American and Indian officials about where the White House Press Corps can go during Obama's tour:

White House reporters were held outside the entrance to Obama and Singh's joint press conference Monday for two hours because Indian officials refused to allow them in and repeatedly changed the rules for entry, such as whether or not laptops were allowed inside.

At the airport in New Delhi, Indian officials refused to allow members of the White House press pool that travels on Air Force One to stand under the wing of the plane to photograph Obama's exit and greeting of officials on the tarmac, including Singh. U.S. officials also had to overcome several obstacles put up by Indian officials to clear in members of the press corps to Obama's town hall with students in Mumbai on Sunday.

Gibbs emailed Mediaite on Monday to explain his behavior. "We had an agreement to get a certain number of people in to the meeting," he wrote. "We simply stood up for that which is our job. Thankfully they didn't take me up on closing the door and breaking my foot."