Via CBS News's Mark Knoller, here's a picture of White House Press Secretary Robert Gibbs wearing a team Canada hockey jersey at today's White House Press Briefing. Gibbs's appearance in the Team Canada kit comes after Gibbs lost a bet to Dimitri Soudas, the press secretary to Canadian PM Stephen Harper. As you can see, Gibbs had the presence of mind to not wear the jersey of Sidney Crosby in Washington, DC, a move that would have overburdened the Secret Service assigned to protect him from the rampages of Washington Capitals fans.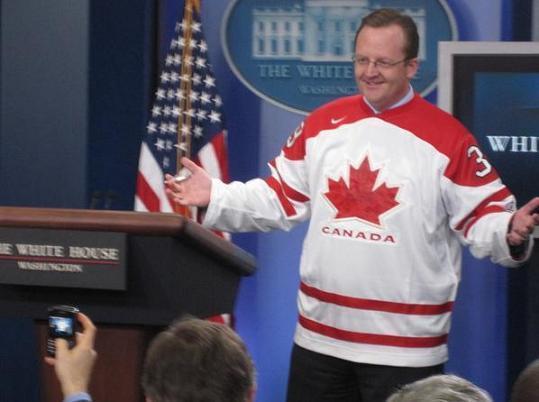 After showing up in the Canada jersey, Gibbs removed it to reveal a Team USA jersey underneath. He told reporters that the USA jersey was a snugger fit, but has thus far left it on for the briefing.
If the Democrats lose the House during the 2010 elections, Gibbs will appear in the briefing room with his skin dyed to the color of the inside of a pomegranate, like John Boehner.
REAL LIFE. REAL NEWS. REAL VOICES.
Help us tell more of the stories that matter from voices that too often remain unheard.