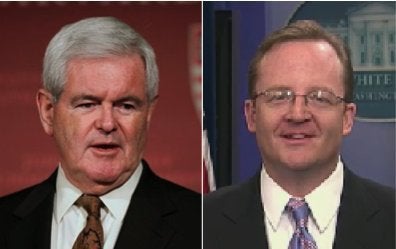 White House Press Secretary Robert Gibbs responded Monday to recent claims by Newt Gingrich that President Obama was defined by a "Kenyan, anti-colonial" worldview, saying that it was just a clear sign that the former Republican House Speaker was working to appeal to the birther "fringe."
"He's trying to appeal to the fringe of people that don't believe the president was born in this country," Gibbs said. "You would normally expect better from somebody who had held the position of Speaker of the House."
During an interview with National Review Online over the weekend, Gingrich attempted to break down Obama's political behavior by pointing to a recent article published in Forbes magazine.
"What if [Obama] is so outside our comprehension, that only if you understand Kenyan, anti-colonial behavior, can you begin to piece together [his actions]?" Gingrich asked. "That is the most accurate, predictive model for his behavior."
Gingrich made mention of Robert Gibbs's contention Monday, writing in a tweet:
Thrilled that WH (@PressSec) decided to highlight Dinesh D'Souza's excellent article in @Forbes this AM on @GMA http://tinyurl.com/389ay2d
He later tweeted out the link again and asked his followers to tell him what they thought about the piece's conclusion.
Watch Robert Gibbs on "Good Morning America":
Popular in the Community