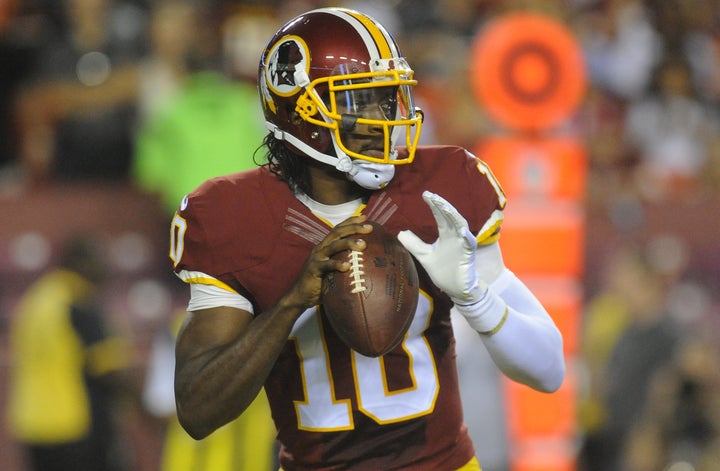 Just three seasons after the Washington football franchise traded a haul of draft picks for the right to take Robert Griffin III with the second pick of the 2012 NFL Draft, it relegated him to backup status. The demotion, made Monday during a press conference with head coach Jay Gruden, makes it appear all the more likely that RGIII's days in burgundy and gold are (finally) numbered.
The four picks Washington gave up to get Griffin might have been justifiable at the time. It was a high price, but Griffin also seemed like a relatively sure bet. And if NFL history proves anything, it is that drafting a quarterback is imperative for success: Since 1999, 13 NFL teams have won Super Bowls behind quarterbacks they drafted or acquired in a draft-related trade, and most of those quarterbacks were selected in the first round.
But drafting a future franchise quarterback is also hard, despite what fans of the Indianapolis Colts may think. Between 1999 and 2014, NFL teams took a total of 45 quarterbacks in the NFL Draft's first round. Of those, just fewer than half -- 21 -- have taken the team that drafted them to the playoffs.
These stats may make it seem like drafting a quarterback in the first round is a crapshoot, with a success rate of less than 50 percent. And it many ways it still is. But dig into the numbers a bit deeper, and a far simpler explanation emerges. If you are a first-round quarterback, your chances at success drop precipitously if you're selected by one of three specific teams.
For the Washington team, the Cleveland Browns and the Jacksonville Jaguars, finding a franchise quarterback through the draft has been as difficult as solving a Rubik's cube. And if their most recent first-round picks at the position -- Griffin, Johnny Manziel in Cleveland, and Blake Bortles in Jacksonville -- don't pan out, those three teams will be responsible for half of the 20 quarterbacks selected since 1999 who can be credibly labeled as busts.
The definition of a bust is inherently subjective. But here's a breakdown of the quarterbacks taken since 1999 who arguably deserve the label:
GROUP A: This group is defined primarily as the 18 quarterbacks who neither spent the equivalent of four seasons as a starter nor took the team that drafted them to the playoffs, and it runs the gamut from Cade McNown and Tim Couch to Matt Leinart and Jamarcus Russell. Of these, 16 are clear busts. There are two exceptions: Jay Cutler, who was traded to Chicago after three seasons and has started 82 games for the Bears, making the playoffs once, and Sam Bradford, who may still qualify as a bust but is trying to revive his career in Philadelphia.
GROUP B: Four quarterbacks managed either success or some longevity but couldn't find both, and thus qualify as busts: Tim Tebow, who led Denver to a playoff win but started just 14 games; Rex Grossman, who took the Bears to the Super Bowl but lasted just 31 games under center; Byron Leftwich, who got the Jaguars to the playoffs but managed to start just 44 games; and David Carr, who logged 75 starts for Houston but never finished a season with a winning record.
GROUP C: This category contains three who fall somewhere in the middle, but lean toward the bust category. Bradford fits here, for the moment. So does Mark Sanchez, who started four seasons in New York and led the Jets to two AFC title games before falling apart. And is it fair to call Vince Young, who had a 31-19 record, made two Pro Bowls and took the Titans to the playoffs before he fell out with the franchise, a bust?
GROUP D: Two young quarterbacks are teetering on the brink of the label: RGIII, who despite a playoff appearance will go down as a bust if he doesn't bounce back, solely due to the price Washington paid, and E.J. Manuel, who struggled as a rookie and was nearly cut by Buffalo in the preseason.
So depending on the definition, 20 of the 45 quarterbacks selected in the first round since 1999 (Groups A and B) qualify as busts, while there are three others who could fit the definition (Group C) and two others nearing it (Group D).
What is remarkable, though, is the concentration of busts in certain franchises. Cleveland and Washington are already responsible for a quarter of them: Couch, Brandon Weeden and Brady Quinn in Cleveland; and Patrick Ramsey and Jason Campbell, who rebounded to have an average NFL career after leaving D.C., in Washington. Add Leftwich and Blaine Gabbert from Jacksonville, and three franchises are responsible for more than a third of busts. All three now have young quarterbacks too, and if Griffin, Bortles and Manziel all eventually join that list, the situation gets even worse (Tennessee, which has also taken three first-round QBs since '99, will have an argument to join them if Marcus Mariota, its top pick in 2015, doesn't work out).
Other teams simply haven't struggled this mightily. Minnesota is the only other franchise to spend three first-round picks on quarterbacks in that time span, but it sandwiched its bust (Christian Ponder) between Daunte Culpepper and Teddy Bridgewater, who looks like a winner early on. Of the 10 teams to use two first-rounders on quarterbacks since 1999, only Buffalo and Cincinnati don't have playoff wins to show for it, though the Bengals twice made the postseason under Carson Palmer and have gone to four straight playoffs with Andy Dalton, a second-round pick, under center.
The top-tier teams, meanwhile, have hit the jackpot. Indianapolis, Green Bay, Pittsburgh and the New York Giants needed just one pick to get it right. Others, like Baltimore, have missed once but made the right choice the second time.
There is a chicken-and-egg predicament here: Are those teams great because they got lucky in who they chose, or because they knew who to choose? Either way, only the worst of the worst, like Washington, Cleveland and Jacksonville, have continually missed -- or failed to put the necessary pieces around assets like Griffin once they got them.
For two of these franchises, at least, draft ineptitude looks like a reflection of even larger problems. Cleveland and Washington have combined to start 38 different quarterbacks since the 1999 season began, and their issues aren't limited to signal-callers: Both teams have cycled through eight different head coaches in the same time frame.
None of that adds up to a recipe for success for young quarterbacks. So as easy as it might be to lay some of the blame at Griffin's feet and move on, it looks more like he is just the latest piece in Washington's pattern of failure at the position.
Calling all HuffPost superfans!
Sign up for membership to become a founding member and help shape HuffPost's next chapter