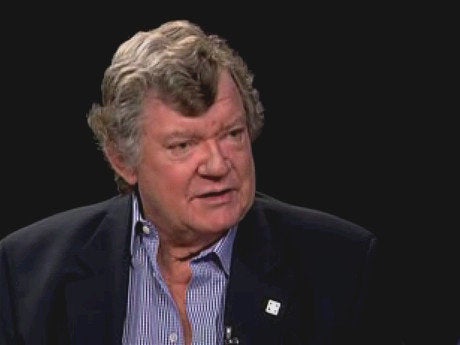 As I was about to learn in the summer of 1972, everything about Robert Hughes was supersized... his wit, erudition, charm, golden pen, and his passion for life lived large.

The first time I met him, he had roared into Provincetown (an age-old artists/writers colony on the bay in Massachusetts) with an enchanting, precocious four-year-old child, Danton, and promptly took over the painter Robert Motherwell's kitchen and life for several days. The conversation, food and drink were giddy making.

Hughes had arrived in a Volkswagen Beetle which in his usual generous, enthusiastic fashion, Motherwell had lent the seemingly impecunious art critic to use while in NY, and had bemusedly accepted the fact that even before arriving in Provincetown, Hughes had accumulated some seventeen unpaid parking tickets.

But that was overlooked as this outrageously seductive man launched into a discussion of his passion -- fishing. Motherwell owned a Boston Whaler which Hughes and Danton commandeered to set out on their great father-son adventure. And it was successful. They returned with 37 large fish (just why I recall that number remains a mystery to me).
I arrived at the Motherwell deck as Bob and Danton were painstakingly cleaning every one of the fish... degutting and cutting off their heads which they neatly dispatched into the Provincetown Bay at high tide. To my shock, they then loaded all of the cleaned fish into the back of the Beetle without any ice.
Hughes who seemed sure of everything insisted that they would make it back to New York without problems, and they took off in the same larger-than-life style in which they had arrived... huge bear hugs, hearty laughter and loud, loud thanks. We were all seduced. And then the tide went out. The guts, backbones and heads of 37 fish lay spread out in front of Motherwell's house, exposed to the sun for hours.
He and all of us who lived along the waterfront remembered Bob Hughes's visit for days. Now forty years later, I can still remember the smell, but more vividly I remember how Bob Hughes, when he stormed Provincetown, showed us what life looked like when lived through a mega-magnifying glass.
Calling all HuffPost superfans!
Sign up for membership to become a founding member and help shape HuffPost's next chapter