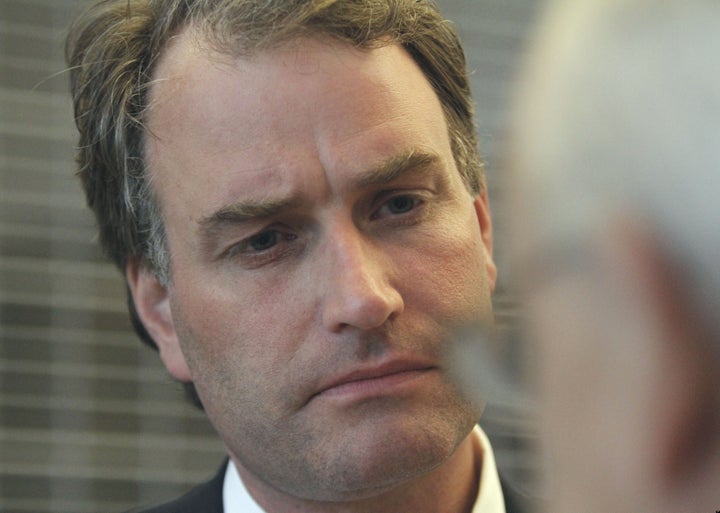 Republican Robert Hurt, who is running to oust Democratic Rep. Tom Perriello in Virginia's fifth district, will not be participating in a Sept. 19 debate hosted by the Cumberland County NAACP, taking issue with the fact that the third party candidate will also be there.
The Huffington Post spoke to Yvonne Earvin, who is on the chapter's committee to coordinate the forum. She confirmed that Hurt will not be participating, while Perriello and Independent Jeffrey Clark will be. "I was surprised that he wouldn't participate," Earvin said of Hurt. "I left the door open though, letting the campaign manager know that if he changes his mind, he's more than welcome."
This is the third debate Hurt has skipped so far. There was the Aug. 10 Senior Statesmen of Virginia forum, which is traditionally the first debate of the campaign season in VA-5. Hurt was the first candidate to decline to participate since the annual event began in 1996. The second debate was held on Sept. 9 at the Nelson County Chamber of Commerce; Hurt was instead in Texas at a fundraiser with Texas Republican Reps. Pete Sessions and Jeb Hensarling.
The Hurt campaign told the Huffington Post that the reason it has skipped these three debates is because of the presence of Clark, a Tea Party activist who has said "his goal in the race is to take votes away from Hurt."
"Since October of last year Robert has engaged in dozens of public debates in counties and cities all across the 5th District," said Hurt campaign spokesperson Amanda Henneberg. "As we have made clear from the beginning of this campaign, Robert is happy to debate Congressman Perriello one-on-one anytime, anywhere." Hurt and Perriello will eventually face off against each other in three televised debates in October.
Perriello campaign spokesperson Jessica Barba sharply criticized Hurt for skipping the debate, saying Hurt "has turned his nose up to 5th district seniors, small business owners, and African-Americans in skipping the first three debates of the race. Voters have to wonder if Senator Hurt is so afraid of explaining his votes to raise taxes and utility rates that he continues to hide from questions about his record."
As The Huffington Post reported on Friday, nearly one in three of 76 competitive and currently active U.S. Senate candidates have made headlines this election season for either refusing to debate or expressing a palpable aversion to participating in such forums. Similarly, the same can be said for nearly one in four of 87 gubernatorial candidates whose re-election hopes remain alive, as well as a slew of House candidates. "Refusing to debate is a tired but traditional tactic employed by almost every political incumbent in American politics," Republican political strategist Mark McKinnon said, adding, "We can only hope that voters have become hip enough to the game that they demand their representatives debate early and often. It ain't the law, but it sure as hell ought to be an obligation."