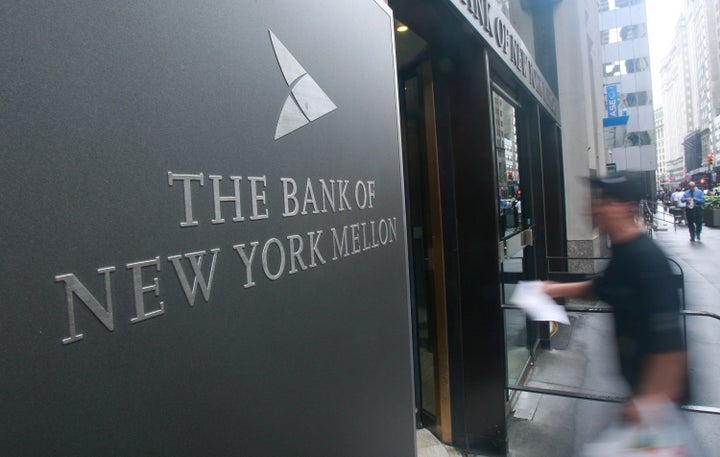 BOSTON/NEW YORK (Svea Herbst and Dan Wilchins) - Bank of New York Mellon's (BK.N) Chief Executive Robert Kelly stepped down in a surprise move, because of what the company said was "differences in approach to managing the company."
BNY Mellon, one of the largest trust and custody banks, did not elaborate on why Kelly, 57, was stepping down. The bank did say the decision was a mutual agreement with the bank's board. A biography still posted on BNY Mellon's website noted that Kelly "was named one of America's Best CEO's for 2009" by Institutional Investor magazine.
Gerald Hassell, BNY Mellon's 59-year-old president, is taking over as chairman and chief executive. He has been with BNY Mellon and before that Bank of New York for three decades.
BNY Mellon is looking to cut costs as low interest rates have cut into its earnings growth, and it has been struggling with lawsuits alleging it overcharged pension funds for foreign exchange trades.
"This is an extreme surprise," said Gerard Cassidy, analyst at RBC Capital Markets.
"The company is currently facing two major issues, the planned downsizing and the ongoing foreign exchange litigation. We don't know how or if his departure was related to them," Cassidy added.
The bank's shares have fallen by nearly a third this year, underperforming competitor State Street Corp (STT.N) whose shares have fallen by about 23 percent. On Wednesday before the announcement, BNY Mellon's shares closed down 0.72 percent to $20.67. In after hours trading, shares fell another 1.3 percent.
Kelly joined Mellon Financial Corp in 2006, after having served was Chief Financial Officer of Wachovia, which was later acquired by Wells Fargo & Co (WFC.N) When Bank of New York took over Mellon in 2007, Kelly became Chairman and CEO of the combined company.
He has considered leaving the bank before. In 2009, he was in conversations to become the next chief executive of Bank of America Corp, (BAC.N) but a deal never happened out.
UNSUSTAINABLE EXPENSE GROWTH
Another key bank executive left earlier this year -- Ronald O'Hanley, who headed BNY Asset Management, moved over Fidelity to head their asset management and corporate services unit.
BNY Mellon, like other trust and custody banks, manages cash for companies and handles back-office processing of securities and banking transactions for fund managers, among its other businesses. The bank does not have retail branches, but it did have $26.3 trillion of assets under custody and administration as of June 30, and $1.3 trillion of assets under management.
Low interest rates have squeezed profit growth which hamper a number of their businesses. The company said earlier in August that it plans to cut about 1,500 jobs, or 3 percent of its workforce, to stem rising expenses. Kelly said at the time that although revenue was rising, "expenses have been growing unsustainably faster."
The bank has also faces multiple accusations of having overcharged pension funds for foreign exchange trades by failing to charge the funds the rates that the banks paid, and instead forcing them to pay the highest rates of the day.
Recent market volatility also gave BNY Mellon more deposits than it felt it could comfortably invest, forcing it to charge extra to customers that boosted deposits dramatically over the summer.
Kelly earned $19.4 million in 2010, making him among the best paid CEOs of a public U.S. company.
(Reporting by Svea Herbst in Boston and Dan Wilchins in New York, additional reporting by Brenton Cordeiro in Bangalore; Editing by Bernard Orr)
Popular in the Community