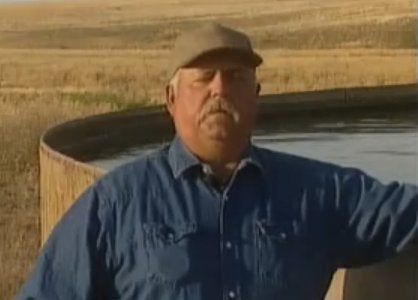 UPDATE: The Arizona Daily Star now reports that the nationality of Robert Krentz's murder suspect is unknown. An earlier version of the story reported that the suspect was an American.
Robert Krentz, an Arizona cattle rancher whose killing became a "flashpoint" in the state's immigration debate, may have been killed by someone in the United States, according to a new report.
High-ranking government officials with credible information spoke to the Star, citing a desire to quell the fury over illegal immigration and drug smuggling set off by the shooting death of longtime rancher Robert Krentz on March 27.

They said Cochise County Sheriff Larry Dever is investigating a person in the United States, not in Mexico, in connection with the shooting.
On March 27, Krentz was found shot to death in an ATV on his property in Cochise County, Arizona. A single set of footprints leading from the crime scene to the Mexican border sparked speculation that Krentz was killed by by an illegal immigrant.
Supporters of SB1070, Arizona's strict new immigration law, pointed to Krentz's slaying in arguing for the legislation.
SB1070 makes it a crime to not carry immigration documents and allows Arizona law enforcement to detain anyone who is suspected to be an illegal immigrant.
At an April 2 committee meeting in the Arizona Legislature, SB1070 supporters used Kretnz's death to justify the bill. Feet In 2 Worlds reports:
On Wednesday, supporters of SB 1070 wore black ribbons on their shirts in remembrance of Krentz as they attended a hearing on the bill by the Committee on Military Affairs and Public Safety.

"Enough is enough. Rob Krentz's death it's just one more example of government's failure to stand for it's citizens and the rule of law and protects citizens while we continue to harbor criminals and those that violate our sovereignty in our borders," said Sen. Russell Pearce (R-Mesa) author of the bill.
State Rep. David Gowan (R-Sierra Vista) told Feet In 2 Worlds that because of Krentz's murder, people from his area were "hammering and clamoring" for the passage of SB1070.
The bill was signed into law April 23 by Republican Governor Jan Brewer.
If Krentz's murder turns out to be unrelated to Mexican border violence, many people could be proven wrong.
Last month, during testimony before the Senate Committee on Homeland Security and Governmental Affairs, the Cochise County Sheriff Larry Dever called Krentz's death an "exclamation point" on the discussion about Mexican violence spilling across the border.
Republican Senate candidate J.D. Hayworth, has made similar comments, and described Krentz as a "martyr" for border control. Hayworth even used Krentz's murder to "pound" incumbent Sen. John McCain over his immigration stance.
Rep. Gabrielle Giffords (R-AZ) also pointed to Krentz's slaying when she asked for National Guard troops to be deployed along Arizona's border just three days after his death.
Krentz's family has blamed his death on U.S. political forces and their "disregard" of warnings about violence. They support the deployment of National Guard forces along the border:
We hold no malice towards the Mexican people for this senseless act but do hold the political forces in this country and Mexico accountable for what has happened. Their disregard of our repeated pleas and warnings of impending violence towards our community fell on deaf ears shrouded in political correctness. As a result, we have paid the ultimate price for their negligence in credibly securing our Borderlands.
Popular in the Community