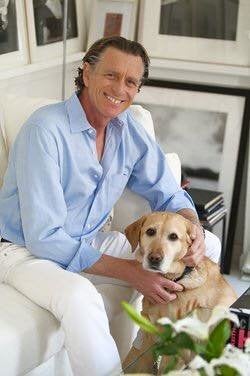 The following obituary was written by Christopher Harrison with Patrick Pacheco and is being republished here with their permission.
Robert Levithan, gay activist, therapist and author, died peacefully at home on May 13, 2016 of pancreatic cancer at the age of 65.
Levithan, author of "The New 60: Outliving Yourself and Reinventing a Future" (2012), was a long-term AIDS survivor (but not the "designated one to die"), a therapist, designer, writer and muse. He was a frequent subject for the landmark photographers Robert Mapplethorpe and Peter Hujar."In his early years he was also a performance artist who appeared on stage in the opera Lulu in the role of Jack the Ripper, directed by Roman Polanski at the Spoleto Festival in Italy and in the Robert Wilson productions of  "Curious George" at Lincoln Center and "The Dollar Value of A Man," at the Brooklyn Academy of Music. Twyla Tharp hand-picked Levithan to represent the hippy culture in "Hair," the Milos Forman film musical.
Born on April 11th, 1951 in Manhattan to Louis and Alice Levithan, Robert was raised in Englewood, New Jersey, and graduated from the University of Pennsylvania with a BA in history, magna cum laude. In the early 1980s, Levithan became an AIDS activist following a diagnosis of HIV. He was among the pioneers testing the efficacy of the first antiretroviral medications and he co-founded The Healing Circle, a support group for people facing terminal diagnoses. He received a Masters Degree in Transformational Counseling from Southwestern College in Santa Fe. As a psychotherapist, he developed a private practice and facilitated healing sessions for those facing life-threatening illnesses, including The AIDS Mastery Founded by Sally Fisher and groups at Friends In Deed, the organization started by Mike Nichols and Cynthia O'Neal.
He was co-chairman with Bravo's Andy Cohen of F.I.D's board for seven years. As a long-term survivor of HIV, he spoke on the topic on such programs as "Charlie Rose" and NPR's "Fresh Air" and he acted as a consultant for the 1994 Oscar-winning short, "Trevor" that started the Trevor Project, a hotline for suicidal LGBT teens.
As a theatrical producer, Levithan nurtured the first productions of Eve Ensler's "The Vagina Monologues," and James Lecesne's two plays, "One-Man Band" and "Word of Mouth."
In his recent years he was a media panelist and a contributor to The Huffington Post and the columnist known as "Design Shrink," for Oprah Winfrey's interiors magazine. Levithan hosted salons entitled "The Sexual Ethicist," designed to liberate attendees from shame and guilt. His writings were published in Out Magazine, Advocate Magazine and The Good Men Project. His blogs were collected into his well-received book, "The New 60: Outliving Yourself and Reinventing a Future."
Levithan, known to his close circle as Bobby, redefined the concept of aging for his generation. At age 64, he had just completed his certification as an AntiGravity® Yoga instructor and finished a children's book called "Sophie's Story" and could be seen gliding around the streets of NYC on his Segway.
New York Times best selling author and nephew David Levithan, who wrote "Boy Meets Boy" & "Two Boys Kissing," said, "My uncle was a remarkable presence in my life, both as a person and as a writer, and his story is one that effortlessly crossed generations to influence me and my own gay generation."  
In the foreward to Robert's book, Tracy Jackson describes Levithan as "a man who writes with the wisdom of a sage, the enthusiasm of a kid, the depth of someone who has seen the world from all sides, and the humor of someone who always knows where the joke is hiding."
He is survived by his two brothers, Allen and Jack, their wives, Beth and Roberta, his partner Christopher Harrison, his loving nieces and nephews, grand-nieces and nephews, dear cousins, aunts and an amazing circle of well-cultivated friends, lovers and followers.
To his family, friends and the people he served, Robert Levithan's greatest gift was his contagious joie de vivre. As an exemplary man, he profoundly influenced others lives, demonstrating his capacity to be authentic while facing monumental challenges courageously and with grace. Mr. Levithan's undeterrable positivity is legendary amongst all who knew him.
Calling all HuffPost superfans!
Sign up for membership to become a founding member and help shape HuffPost's next chapter