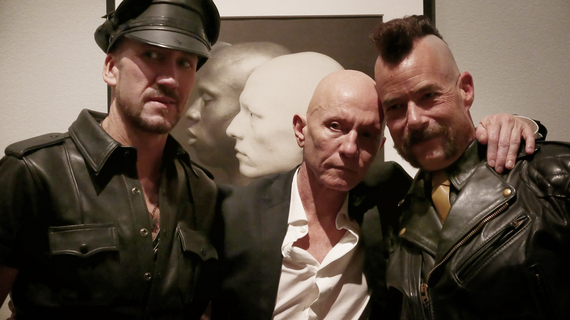 35-years later, Robert Sherman stands in front of the portrait Mapplethorpe took of him. Photo by EMS.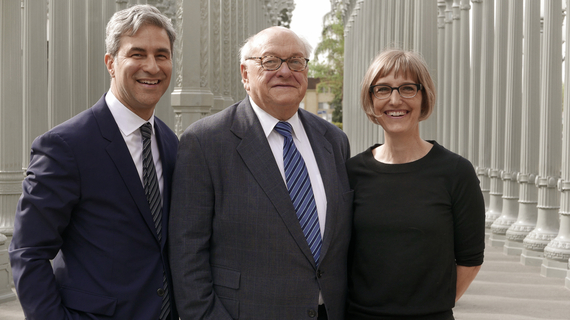 LACMA Director Michael Govan, Robert Mapplethorpe Foundation President Michael Stout, and curator Britt Salvesen.
Robert Mapplethorpe: The Perfect Medium : March 15-July 31, 2016, The Getty Center and LACMA
 
The Los Angeles County Museum of Art and the J. Paul Getty Museum set forth on a duel exhibition venture in producing the largest Robert Mapplethorpe public survey to date. The Terra Foundation for American Art assisted in supporting the exhibition and its international tour. The Getty Museum's presentation is sponsored by Sotheby's. It is no surprise the exhibition contains sexually explicit content when Mapplethorpe flourished in the 1980s dealing with issues of the AIDS crisis, identity politics, feminism, and the emergence of advertising and media in the MTV generation.
A notable exhibit at LACMA, Physical: Sex and the Body in the 1980s, pairs from LACMA's permanent collection with other 1980 contemporaries of Mapplethorpe. LACMA embodies a dialogue of "friends or acquaintances" of Mapplethorpe with works by marquee names of the period, including Nan Goldin, Sherrie Levine, Sarah Charlesworth, Marina Abramović, Tina Barney, Andres Serrano, Peter Hujar, and Kiki Smith. LACMA delivers "early drawings, collages, sculptures, and Polaroid photography; materials from his archive; portraits, still lifes, and figure studies; rare color photographs; and two seldom-seen moving image works. The exhibition also highlights the artist's relationship to New York's sexual and artistic undergrounds, as well as his experimentation with a variety of media."
Spanning from the 1970s to the 1990s, The Getty features "portraits, nudes, still lifes, and the controversial X Portfolio, the exhibition explores Mapplethorpe's studio practice and the creation of his foundation, which has shepherded his legacy into the 21st century."
If one has the time to explore the dual-monolithic exhibits one will be consumed by a monotone sensuality of muscular flesh and the sublime curves of still life flowers, notably the iris. Mapplethorpe embraced his homosexuality and lived an openly-gay life. He chose to be a studio photographer than a photojournalist. He used the camera to to set up rigid portraits, figure studies, and still lifes, than documenting the streets. He dies at 42 in 1989 due to complications from HIV/AIDS.
The combined exhibits produce provocative themes of leather underground, biker regalia, master and slave, pro dominance BDSM subculture, sculptural flesh, larger than life penises and female body builders. Outside of hundreds of photographs there are assemblage sculptures, drawings, collages, and ephemera -- posters, catalogs, gay magazines, etc. Conservative leaning patrons will make note how Mapplethorpe's overt homoeroticism ignited a national debate over public funding of his work. In the meantime, people like my father, a classical photographer, will be enthralled by the soft precision of his orchids and calla lilies. Ultimately, The Getty and LACMA put on a stellar joint-survery to commemorate a legendary photographer that provoked social ideals, maintained a stalwart studio practice, yet honored the exquisite craftsmanship of detailed
camera work.
This article is part of an ongoing photojournalism survey of art exhibition openings titled EMS N(art)rative. Through my lens I document a photographic essay or visual "N(art)rative" that captures the happenings, personalities, collectors, gallerists, artists and the art itself; all elements that form the richly varied and textured fabric of the SoCal art world. This reconnaissance offers a unique view for serious art world players to obtain news and information on the current pulse of what's in the now, yet capturing timeless indelible images for posterity and legacy. Here is EMS N(art)rative Thirty-Six.
Calling all HuffPost superfans!
Sign up for membership to become a founding member and help shape HuffPost's next chapter