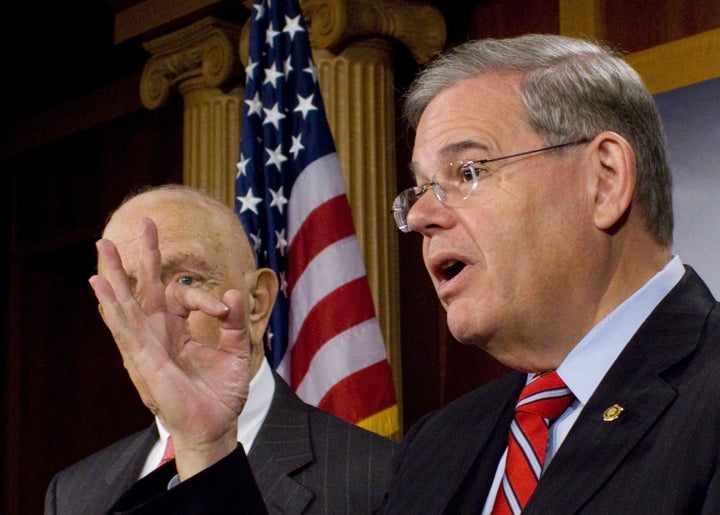 The senator in charge of getting Democrats elected in the fall predicted on Thursday that the oil spill in the Gulf would become a major issue used to symbolize differences between the parties.
Sen. Robert Menendez (D-N.J.) briefed reporters on Thursday about the state of the electoral landscape roughly five months before the 2010 midterm elections. The Democratic Senatorial Campaign Committee chair projected predictable optimism. A major part of the party's changes, he said, was predicated on the turnaround of the nation's economy. But that wouldn't impede other issues from coming into play. And one of the topics that Democrats will capitalize upon, Menendez acknowledged, will be the aggressive response they have had to the oil spill in the Gulf.
"I am leading on the whole question of creating unlimited liability," he said. "And I just can't fathom why my Republicans colleagues can't simply join us. If you say you want to have the fisherman, the commercial fisherman... the seafood process in the coastal communities, the estuaries, the tourism industry all be held harmless there is one way to do that, and that is lifting the liability cap because $75 million ain't going to meet it. Credit Suisse came out with an estimate that it may cost $35-36 billion.
"The administration has come out for unlimited liability," he added. "They stand for continuing to protect big oil. And I think that that contrast, among other things we are doing -- the administration looking at whether criminal prosecution is necessary, us giving the commission subpoena power to get to the heart of the facts, and a whole host of other actions that Democrats are taking -- created a real contrast about who stands on your side, who is looking to make big oil responsible as opposed to who is in the pocket of Big Oil."
In actuality, the issue of oil and energy has already found its way into a few primary elections with various candidates accusing Republicans of doing Big Oil's bidding. There may be some political sensitivity in trying to draw political advantages out of the gravest environmental disaster in U.S. history. And there are serious questions as to whether the Obama administration's handling of the crisis will prove difficult for Democrats to run on.
Certainly, it would be easy to imagine Republicans making the case that this is a moment of calamity, not triumph, for their political adversaries. That said, Democrats on the Hill and in the administration have begun pushing a series of measures that could provide uncomfortable votes for the GOP -- namely on the issue of BP's liability. And Menendez's comments do indicate that the party sees no downside in making the case that this oil spill is an indictment of the energy policies and special interest domination of the GOP.

Calling all HuffPost superfans!
Sign up for membership to become a founding member and help shape HuffPost's next chapter