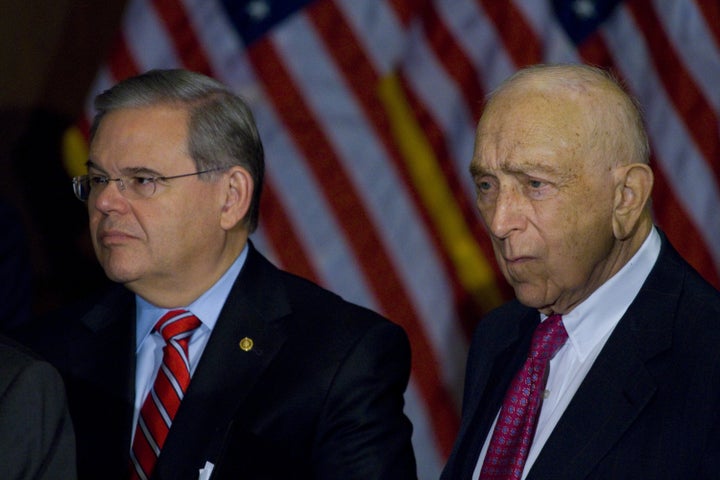 A trio of Democratic Senators are introducing legislation on Monday that would dramatically raise the amount of money that oil companies like BP would have to pay in economic damages in an event of a spill.
Authored by New Jersey Sen. Robert Menendez, and co-signed by fellow Garden Stater
Sen. Frank Lautenberg and Florida Sen. Bill Nelson, the (craftily-titled) "Big Oil Bailout Prevention Act" would raise the economic damages liability cap for offshore oil spills from $75 million to $10 billion.
The impetus for the legislation were reports that surfaced over the weekend that British Petroleum, the company responsible for the disastrous spill in the Gulf Coast, would face limited responsibility for covering costs beyond cleanup and containment.
The oil company, in addition to others, pays money into the Oil Spill Liability Trust Fund -- a kind of rainy day piggy bank for handling the immediate costs of dealing with disasters. Under the charter of the federal law that created the $1.6 billion fund, however, operators of the offshore rig face no more than $75 million in liability for non-cleanup and containment damages. And in a region like the Gulf Coast the cost to local industry of a massive oil spill can easily skyrocket well beyond that total.
"We're glad that the costs for the oil clean up will be covered, but that's little consolation to the small businesses, fisheries and local governments that will be left to clean up the economic devastation that somebody else caused," Menendez said in a statement. "We can't let the burden fall to the taxpayers - we should ensure that those who cause the damage are fully responsible. There is no such thing as a 'Too Big to Spill' oil well."
Introduced in a hurry, the bill would affect the current crisis surrounding BP. And from the tone set by the title, the text of the legislation, the three Senators -- all vocal offshore drilling opponents -- appear determined to make it as tough a vote as possible for their colleagues on the other side of the debate.
In addition to forcing oil-spillers to cover the costs of economic recovery, the legislation would require companies like BP to spend future revenues on cleanup and containment costs that exceed the Oil Spill Liability Trust Fund's $1.6 billion. It would also eliminate the $1 billion cap on individual claims against the fund and allow community responders to access the fund for "preparation and mitigation up front."
Popular in the Community