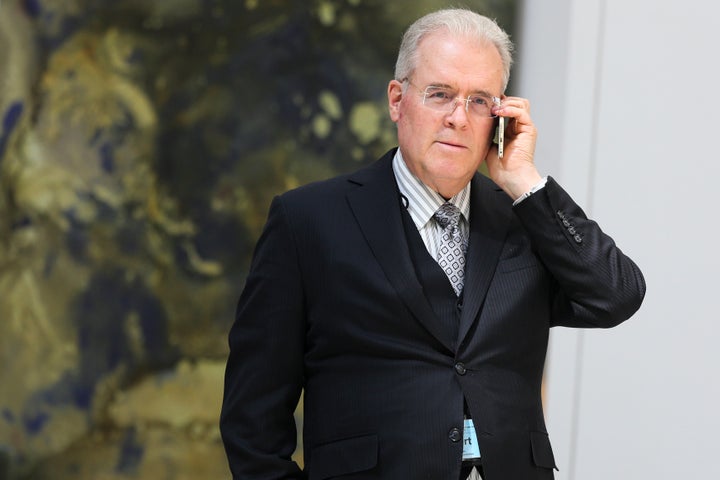 Cambridge Analytica, a U.S. data analytics firm backed by Robert Mercer, and its British affiliate, SCL Elections Limited, have threatened to sue The Guardian following a series of articles investigating links between the conservative billionaire and last year's Brexit vote to leave the European Union.
"These articles are the subject of a legal complaint on behalf of Cambridge Analaytica LLC and SCL Elections Limited," the disclaimer reads.
A Guardian spokesperson said the paper had no additional comment.
"Cambridge Analytica denies the allegations published by the Observer in the strongest possible terms," a company spokesperson said in a statement to HuffPost, referring to The Guardian's sister paper published on Sundays. "We can confirm that we are pursuing legal action in this matter; in the circumstances it would not be appropriate to comment further."
The aforementioned articles were written by Carole Cadwalladr, who reported Sunday that two data firms tied to competing pro-Brexit Leave campaigns, Cambridge Analytica and Canada's AggregateIQ, hadn't disclosed a partnership, a possible violation of British election law. The firms denied such a relationship.
That most recent line of inquiry appeared to especially rankle Cambridge Analytica and SCL Elections, as Cadwalladr tweeted that the firms' lawyers approached the paper on Saturday.
And the firms' displeasure with Cadwalladr's reporting was made clear in the article, which was published in The Observer.
Lawyers for Cambridge Analytica and SCL Elections wrote to the Observer on Saturday to complain about our previous stories, which they said contained significant inaccuracies and amounted to a sustained campaign of vilification designed to paint a false and misleading picture of their clients. They said we were conducting a concerted campaign to undermine their clients and cause them damage. They said their clients have done no wrong, broken no laws and breached no one's rights and had not been part of a 'shadowy' or unlawful campaign to subvert British democracy or dupe the British public.
The Mercer family members have long been allied with White House chief strategist Steve Bannon and were top backers of Donald Trump's presidential campaign. They're also part-owners of Breitbart News, which was previously led by Bannon, and fund the Government Accountability Institute, an organization co-founded by Bannon.
This article has been updated with comment from Cambridge Analytica.
Related
Popular in the Community