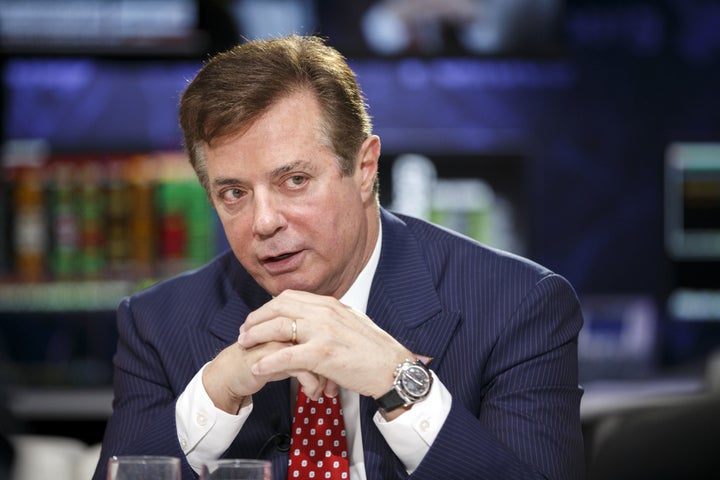 WASHINGTON ― Former Trump campaign chairman Paul Manafort lied to investigators with the special counsel's office about his contacts with administration officials, Robert Mueller's team told a federal judge in a court memo filed Friday ahead of his sentencing.
Manafort, a longtime Washington operative who chaired the Trump campaign for several months during the 2016 election cycle, was accused by Mueller's team last month of breaking a plea deal reached in September by lying to investigators. Mueller's team didn't specify the lies at the time, writing only that Manafort had committed additional crimes by lying to the FBI and the special counsel's office "on a variety of subject matters."
The filing said that Manafort lied about his contact with administration officials this year ― after his initial indictment ― and that texted with someone authorizing them to talk to an administration official on his behalf. Mueller's team said he told "multiple discernible lies ― these were not instances of mere memory lapses."
The filing also says that Manafort testified before a grand jury on Oct. 26 and Nov. 2, and had multiple interviews with the special counsel's office.
Manafort's sentencing has been scheduled for March 5. Mueller's team has not yet indicated what sentence it would recommend for the 69-year-old and will first have to demonstrate to the judge that Manafort did, in fact, break his plea deal by lying. Manafort's best bet may be a pardon from Trump, who has repeatedly opined that Manafort was treated unfairly by Mueller's team. Manafort's team had an arrangement with Trump's legal team that kept Trump's team informed of what Mueller's investigators were interested in. Trump last month left open the possibility that he'd pardon his former campaign chairman.
The Manafort filing came at a crucial moment in the Mueller investigation. It's been one month since Trump ousted Attorney General Jeff Sessions, and on Friday Trump said he'd nominate former Attorney General Bill Barr as the nation's next top law enforcement official. Earlier this week, Mueller's team said former national security adviser Michael Flynn should be allowed to avoid jail time and that his cooperation in the Mueller probe had been "particularly valuable."
The Manafort news came the same day as Mueller's team was scheduled to make a separate filing in the case against former Trump personal attorney Michael Cohen, who recently pleaded guilty to lying to Congress about his knowledge of interactions between Trump's company and Russia. Cohen is set to be sentenced in that case and in a separate case involving payments to adult film star Stormy Daniels, which Cohen testified were made at Trump's behest as part of an effort to hide Trump's alleged affair with Daniels from voters.
Trump once again vented about the Mueller investigation on Friday and also tweeted that his lawyers would be "doing a major Counter Report" to combat a report that many anticipate Mueller will file.
Popular in the Community