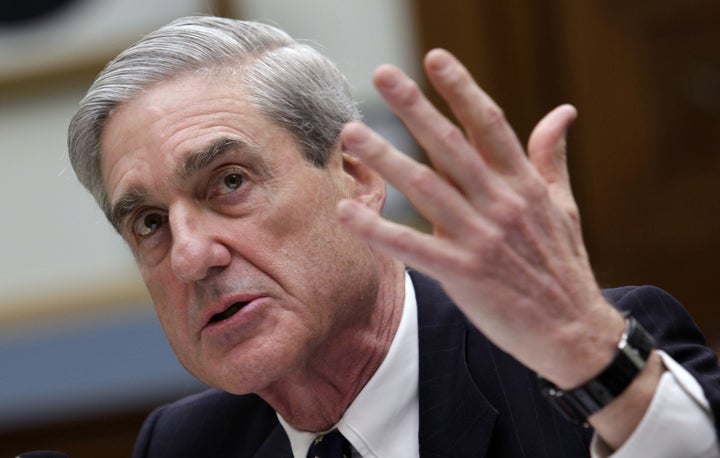 WASHINGTON ― Republicans say special counsel Robert Mueller, who leads an intensifying investigation of Russia's meddling in last year's presidential election, ought to remain in his post until he finishes the probe.
"He's doing the job he's been asked by the American people to do. He should stay at it and finish it," Sen. James Lankford (R-Okla.) told HuffPost on Tuesday.
Charges of tax fraud and money laundering were announced on Monday against Paul Manafort, the former chairman of Donald Trump's presidential campaign, and Rick Gates, who also worked on Trump's successful White House bid. Meanwhile, Mueller disclosed that George Papadopoulos, who advised the Trump campaign on foreign affairs, had pleaded guilty to lying to the FBI about contacts with Russian officials.
The development spurred fresh criticism about the direction and scope of Mueller's investigation.
"Mueller has become an out-of-control prosecutor," former House Speaker Newt Gingrich (R-Ga.) told Fox News' Sean Hannity on Monday. He added that the special counsel ought to instead investigate 2016 Democratic presidential nominee Hillary Clinton and other Democrats ― a refrain heard earlier in the day on Fox News.
Before Monday, the call for Mueller to step down had been sounded in a pair of Rupert Murdoch-owned news outlets, which cited his ties to former FBI Director James Comey ― fired by Trump earlier this year ― as inappropriate.
"Mr. Mueller is a former FBI director, and for years he worked closely with Mr. Comey," a Wall Street Journal editorial said last week. "It is no slur against Mr. Mueller's integrity to say that he lacks the critical distance to conduct a credible probe of the bureau he ran for a dozen years. He could best serve the country by resigning to prevent further political turmoil over that conflict of interest."
An Op-Ed in The New York Post echoed the call for Mueller's resignation a few days later. Columnist Michael Goodwin said it was time for the special counsel to "say ­bye-bye."
Senate Republicans, though, are steering clear of such suggestions.
"The special counsel has his job to do and we're going to concentrate on what we're doing here in the Senate," Senate Majority Leader Mitch McConnell (R-Ky.) said at his weekly press conference on Tuesday at the Capitol.
Sen. Roy Blunt (R-Mo.), vice-chairman of the Senate GOP conference, agreed ― at least for now.
"I might reach that conclusion at some point [that Mueller should resign], but based on the information I have right now I have no reason to believe he can't do his job as special counsel," Blunt said.
Asked about the Journal's editorial, Sen. Johnny Isakson (R-Ga.) said he didn't remember the newspaper "getting elected to anything."
He added: "I'm not going to get engaged in that discussion right now. [Mueller's] been appointed for a purpose, let him carry that purpose out, and let the evidence take us where it may."
Sen. Richard Shelby (R-Ala.) said it was "a little early" for talk of Mueller resigning.
He noted that Attorney General Jeff Sessions recused himself from the Russia probe because he was an adviser to Trump's campaign. "We'd probably have another counsel," Shelby said.
Popular in the Community