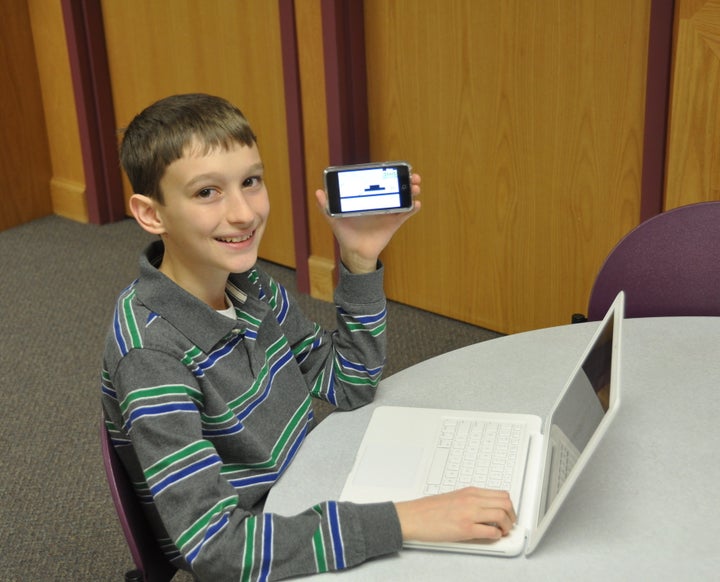 Most 14-year-olds are watching TV, thinking about the school dance and spending way too much time on Facebook. Eighth-grader Robert Nay, meanwhile, used his spare time to build a No. 1 iPhone app.
Nay's Bubble Ball, an addictive multi-level physics game, managed to unperch the mega-popular Angry Birds from the number-one spot on the free games list in mid-January. The deceptively simple game gets increasingly more challenging as players move objects around and manipulate the laws of physics to get a ball through an obstacle course to the finish line.
Offering Bubble Ball as a free game turned out to be a smart marketing move -- to the tune of 6 million downloads. That sets the stage should Nay decide to charge for his next creation. He has already issued an update for the game with new levels and an improved look on the larger iPad screen. If the success of his first game is any indication, Nay has a bright future in game development.
Where did you get the idea for Bubble Ball?
I had played games that had some similar ideas, but I mostly came up with it myself.
Did you have business startup costs associated with building your first app and launching Nay Games?
The Apple Developer license [which allows you to publish your games to the App Store], the Android Market license [for publishing to the Android Market], and the license for Corona SDK, which is what I used to make Bubble Ball. There were also fees to create the business. We already had a Mac computer and iPod touch.
Why did you decide to start Nay Games rather than be a single person app publisher?
If I started a business, I could expand later, possibly with more people and games.
Why did you choose to develop for the Apple iOS platform?
I like their devices and have an iPod Touch.
You've been getting a lot of media coverage. Did you initially do anything special to promote Bubble Ball?
Not really. Just telling friends and family and such.
How does it feel to topple the popular app Angry Birds out of the No. 1 spot?
I think it's pretty awesome. I never imagined my game could be the number-one top free game.
Have you faced any challenges as a young entrepreneur?
Probably just getting it started, and getting brand recognition, which all this publicity has really helped us with.
What are your future plans for Nay Games?
To make more games and possibly write an eBook about iPhone game development.
Is being a gaming entrepreneur what you want to do after finishing school or do you have other ambitions?
Possibly. I want to do something with computers for my career, like Web development or computer programming. But being a gaming entrepreneur is definitely a viable option.
What advice do you have for other app developers?
Shoot for the stars. Put your mind to it and, most importantly, have fun.
Do you have any tips for getting through Bubble Ball Level 12?
Put the triangle under the ball, then you have to place a gravity up piece, then a gravity down piece.
Name: Robert NayCompany: Nay GamesAge: 14Location: Spanish Fork, UtahFounded: 2010Website: www.naygames.com
The original version of this article appeared on AOL Small Business on 1/26/11.
Related
Popular in the Community