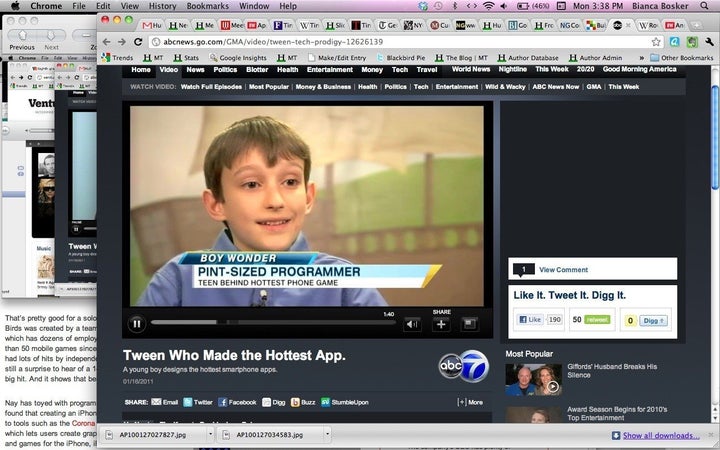 Bubble Ball, a physics puzzle game, knocked the smash hit game Angry Birds out of its top spot on the Apple App Store's list of most popular free apps.
While Angry Birds was created by a 17-person company based in Finland, Bubble Ball is the work of 14-year-old Robert Nay, an eighth grader living in Spanish Fork, Utah, who taught himself how to program and created his first website while in third grade.
His company, Nay Games, launched an iOS version of the app on December 29 and its popularity in the App Store quickly skyrocketed. As ABC News reports, "during the past two weeks, his free game 'Bubble Ball' has been downloaded more than 2 million times."
Some months back, a friend suggested that if Nay liked his iPod touch so much, perhaps he should try his hand at programming for it. At first he tried the standard Objective-C programming tools, but found the learning curve a little steep. He tried another tool called GameSalad, but didn't like the results. In the end, he settled on the Corona tools from Ansca Mobile. Corona was easy to use, he said, and also let him write once and publish for both Apple and Android devices. [...]

Robert's mom, Kari Nay, drew some of the levels of the game, though Robert did all the coding. Kari Nay also handles the business tasks, such as submitting the apps to the App Store and Android marketplaces.

See Good Morning America's story on Nay and a preview for Bubble Ball below. An Android version of the app is also available.
WATCH: