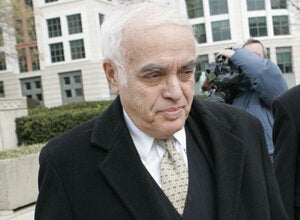 Syndicated columnist Robert D. Novak was cited by police after he hit a pedestrian with his black Corvette in downtown Washington, D.C., on Wednesday morning.

A Politico reporter saw Novak in the front of a police car with a citation in his hand; a WJLA-TV crew and reporter saw Novak as well. The pedestrian, a 66-year-old male, was hospitalized at George Washington University Hospital with minor injuries, according to DC Fire and EMS. Novak was later released by police and drove away from the scene.

"I didn't know I hit him. I feel terrible," a shaken Novak told reporters from Politico and WJLA as he was returning to his car. "He's not dead, that's the main thing." Novak said he was a block away from 18th and K streets Northwest, where the accident happened, when a bicyclist stopped him and said, "You hit someone." He said he was cited for failing to yield the right of way.

The bicyclist was David Bono, a partner at Harkins Cunningham, who was on his usual bike commute to work at 1700 K St. N.W. when he saw the accident happen.

As he traveled east on K Street, crossing 18th, Bono said a "black Corvette convertible with top closed plowed into the guy. The guy is sort of splayed onto the windshield."
Watch a local DC news report on the Novak pedestrian accident:
Novak tells us he was listening to NPR in his Corvette when suddenly, "Some guy came up and hit my car with his fist. I figured I had done something that had created road rage, but I didn't know what it was. Then a bicyclist blocked the road in front of me. I asked what the problem was. He said, 'You can't just hit people and run away!'"

Novak says the cops came, put him "briefly" in the back of the police car and asked about what he heard at the time of impact. Novak told them and us that he didn't hear or feel anything. They asked if he had been drinking or on a cellphone. He answered "no" to both.

Novak, who was citied for failing to yield, says he won't fight the ticket, adding, "I assume witnesses are telling the truth."
Related
Popular in the Community