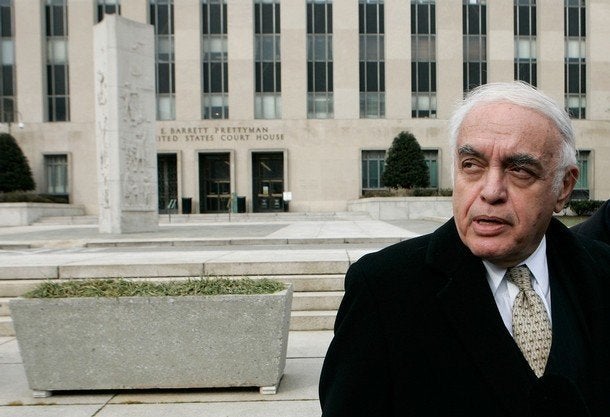 Ailing from his fourth battle with cancer last autumn, famed columnist Robert Novak -- who died today at 78 -- was interviewed at length for one of the final times by The Washingtonian's Barbara Matusow. The magazine published on its web site the full Q & A, which concluded with perhaps Novak's final published re-assessment of his role in helping to out CIA operative Valerie Plame Wilson.
It shows that near the end he had reversed his partial feelings of regret and, angered by liberal critics, went back into attack mode. Of course, two years ago, he had predicted that "unfortunately" his Plame connection would probably make the opening sentence of his obituary. This proved true in the case of the Associated Press bulletin on his death, but the Washington Post waited until the third paragraph.
Here are the passages from the Matusow interview on the CIA leak case.
Let's talk about the Valerie Plame affair, which caused you so much grief. If you had it to do over again, would you reveal who she was?

If you read my book, you find a certain ambivalence there. Journalistically, I thought it was an important story because it explained why the CIA would send Joe Wilson--a former Clinton White House aide with no track record in intelligence and no experience in Niger--on a fact-finding mission to Africa. From a personal point of view, I said in the book I probably should have ignored what I'd been told about Mrs. Wilson.

Now I'm much less ambivalent. I'd go full speed ahead because of the hateful and beastly way in which my left-wing critics in the press and Congress tried to make a political affair out of it and tried to ruin me. My response now is this: The hell with you. They didn't ruin me. I have my faith, my family, and a good life. A lot of people love me--or like me. So they failed. I would do the same thing over again because I don't think I hurt Valerie Plame whatsoever.

You saw up close what it's like to be the subject of so many news stories. Has this changed the way you view the journalistic profession?

I thought the journalistic community was terrible to me -- even members of the Gridiron Club, which is supposed to be a band of brothers and sisters. I thought one of the worst columns written on the Plame affair was by William Safire. He wrote a stupid column saying I should reveal the name of my source. He wanted to get his colleague at the New York Times, Judy Miller, off the hook with the prosecutors. He didn't know, as I knew, that my source, Richard Armitage, had long before identified himself to the FBI and the Justice Department. But my attorneys advised me to keep silent about the whole affair.

Having thrown a lot of darts throughout your career and then being on the receiving end, did you ever stop to think how your columns might have made other people feel?

No. [Laughs.] That's not my nature.
Greg Mitchell's latest book is "Why Obama Won." He is editor of Editor & Publisher and has written widely about the Plame case.