Robert Osborne showed us why television, more than any other medium, turned hosts into stars.
Osborne, who died Monday at the age of 84, wrote or compiled more than a dozen books about the movie biz. But what endeared him to anyone who loved movies was his long-running role as a host on Turner Classic Movies (TCM) and, before that, on The Movie Channel.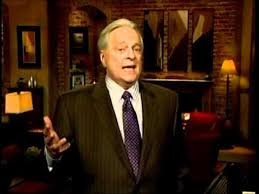 Before the latest showing of Casablanca, or during a night of Joan Blondell, Greta Garbo, Gary Cooper or Elizabeth Taylor flicks, Osborne would pop up as the genial host.
He would summarize the historic value and artistic merit of the film, usually interspersed with fun facts about its casting or filming.
These short monologues were often masterpieces. They were not, however, the primary reason we loved Robert Osborne.
We loved him because in very important ways, he was a dear friend who had picked out these wonderful movies just for us.
Television at its best invites itself into the viewer's home, bringing the day's or evening's entertainment along. In Osborne's case, that was a canister from which he would produce Ben-Hur or Breakfast At Tiffany's or The Godfather and say sit down, friend, let's enjoy this one together.
We never felt that Osborne filmed these introductions or commentaries and then retired somewhere else, though we knew perfectly well that's what happened.
In every important way, including spirit, we knew he was sitting down on the couch and watching these films with us, savoring them just as we did.
That's always been the secret of the best hosts in the only other medium where hosts often become the stars, radio. Good radio personalities come into the kitchen, living room or the car and talk with the listener. If they play music, it's music they've picked out because they want us to hear it and they think we'll like it.
A good television host makes that same connection. We don't tune in a Johnny Carson, Jimmy Fallon, Jon Stewart or Samantha Bee to see guests. We like the show in direct proportion to how well we like them.
In the early golden age of television variety shows, the stars weren't the variety. They were Arthur Godfrey, Milton Berle, Jackie Gleason, Ed Sullivan.
In more contemporary times, we have American Idol or The Voice, where the hosts came to define the show. Besides the Colberts and Kimmels at night, we have the View crew and the Talk crew in the daytime.
Cable network news, even more than broadcast news, often makes the messengers more prominent than the message – a situation that we should add does not make a Fox News unhappy.
Radio hosts can have that power. But with radio hosts, we only have names and voices. We imagine the rest, which can be quite wonderful in its own way, but for much of the audience can't match the impact of actually seeing who is talking.
We would have admired Robert Osborne's work just as much on radio. We wouldn't have felt we knew him in the same way.
Osborne, once he found this niche, understood how to sustain it.
As a host or an interviewer, he didn't raise his voice. He didn't show off. He never gave the sense he was walking ahead of us or above us. He stayed right alongside.
He wasn't artificially upbeat. He didn't duck the sordid side of the movies or steer his guests away from it. He just never made us feel like getting that stuff was his goal. At the end of the day, we were there to have a good time and so, it seemed, was he.
Television rewards that kind of cool, which is why so many of its most memorable hosts have had it.
Robert Osborne never told us he was great – because anyone who really is doesn't have to say it.
Calling all HuffPost superfans!
Sign up for membership to become a founding member and help shape HuffPost's next chapter