Outside the Bowery Hotel in downtown Manhattan, where I interviewed Pattinson on Thursday morning, a cabal of paparazzi clutched their cameras in anticipation. For this I felt persuaded to apologize by way of introduction. It must feel suffocating to sit on the other side of such vultures.
Pattinson pled ignorance. "I just came in and they weren't there," he said, playfully defiant. "I'm almost certain it's not about me, though."
Who else would they be looking for?
"I go in and out, and I'm like, 'They're not following! It's clearly someone else,'" he said, almost proud at the realization that maybe there's somebody more sought-after in the building. Doubtful. If anything, his comment proved that he's all too familiar with the dance that occurs between shutterbug and famous subject. After all, this is the man who, according to a GQ profile published last week, rode around in the trunks of cars and parked rental vehicles throughout Los Angeles in case he needed to make a quick getaway. He's depressingly well-trained in the art of paparazzi circumvention.
It made sense that Pattinson was semi-incognito when I met him in a discreet corner of the hotel's bar. Dressed in a chunky gray sweatshirt, jeans and a ratty black baseball cap that covered his forehead and concealed his signature mane, Pattinson was calm about the pap situation but exhausted from the many interviews he's given in recent weeks to promote "Good Time," his new movie. "I'm terrible right now," he said, laughing.
"Good Time" is a film that begs discussion, because of its contents and because it confirms that post-"Twilight" Pattinson will not be pigeonholed into any sort of Hollywood box. By nature, it feels weird to declare one's love for "Good Time," a grubby indie drama in which Pattinson plays Connie, a mostly irredeemable goon flitting through Queens, trying to evade the police after robbing a bank with his deaf, mentally challenged younger brother, Nick (Benny Safdie, who co-directed the movie with his brother, Joshua). Connie calls the shots, but Nick is the one who lands in jail, sending Connie on a goose chase to secure $10,000 to bail him out.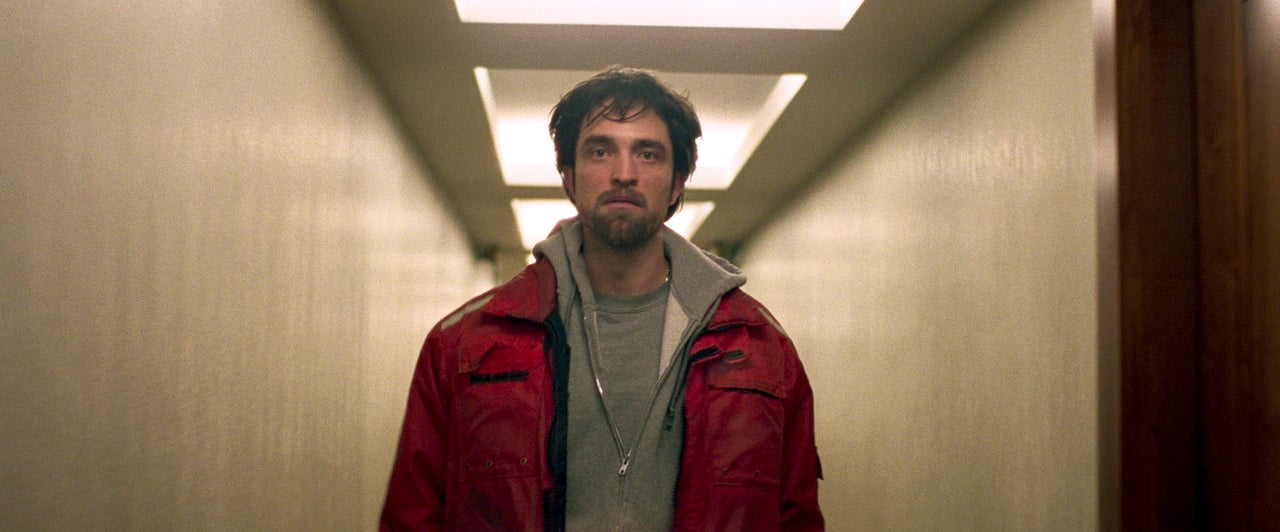 At once unnerved and expressionless, this is the fiercest performance of Pattinson's career, which has taken him from "Harry Potter and the Goblet of Fire," "Water for Elephants" and four of those uber-famous vampire flicks to the comparatively obscure art-house scene. Since the "Twilight" series ended in 2012, Pattinson has solidified his range via two movies directed by sci-fi weirdo David Cronenberg ("Cosmopolis" and "Maps to the Stars"), a dystopian revenge drama ("The Rover") and a few arty biopics that not many people saw, including this year's excellent "Lost City of Z."
If popularity is the metric, Pattinson's IMDb page makes it look like he hasn't done much over the past five years. It's not because he isn't in demand: Pattinson said he reads about eight scripts each week ― that's more than 400 per year.
He can't define his taste, not even to his agents: "I'm only looking for things that surprise me, really." He's instructed his reps to pass along scripts that feature character descriptions along the lines of "tall, 31, pedophile, gross." It's a joke, of course, the point being that Rob Pattinson has no interest in conventional roles. He wants to play the last person you think he'd play.
That's "harder" today, he confirmed, than it was in 2008, when the inaugural "Twilight" movie opened. Back then, Hollywood was only just beginning its franchise takeover, where familiar properties with ballooning budgets ― reboots, spinoffs, interminable sequels, single books split into two or more movies ― eroded a lot of the space occupied by fresh stories. In fact, "Good Time" came about because Pattinson saw an image from the Safdie brothers' previous film, the heroin-junkie romance "Heaven Knows What," and reached out to say he liked their style.
Thankfully, he's had the paychecks to bankroll his interest in independent projects. Pattinson and co-stars Kristen Stewart and Taylor Lautner reportedly earned $25 million apiece, along with 7.5 percent of the massive theatrical grosses, for the two-part "Breaking Dawn." But Pattinson had no idea in 2008 that "Twilight" would help to define Hollywood's new bigger-is-better economic model.
"I remember when 'Twilight' first came out, it was the first time I'd really heard film series be referred to as 'franchises,'" Pattinson said. "And then you see everyone talking about the word 'franchise' as if it's this revered term. 'Franchise' should not be about a movie. That's a fast-food restaurant. Everyone was like 'the franchise, the franchise' the whole time. I just thought, 'Shut up!' It's rote. All these actors are saying 'franchise' ― it's like, what are you doing? You've drunk the Kool-Aid!"

Pattinson may be franchise-free now, but that could change, if Lionsgate gets its way. An executive from the studio, which distributed the "Twilight" films, recently said "there are a lot more stories to be told" in the series, assuming author Stephenie Meyer is keen. This was news to Pattinson.
"Really?" he asked. He then thrust his hands into the air and yelped in faux-enthusiasm: "Yes!"
So, that's a "no thanks," right?
"Well, you never know," he said, backtracking. "It did inspire me at the time. And, really, it's kind of awesome. It's the way people interpret it. People would excuse you for not taking something seriously if it becomes this mainstream thing and everyone's fiending. I took it just as seriously — more seriously — than other things I've done."
Having developed a sort of paparazzi PTSD from the whole experience, you'd think Pattinson would dismiss any "Twilight" talk out of hand. Instead, he grasps the cultural role it plays, and he clearly respects the fan base ― largely teen girls ― who bought $3.3 billion in tickets worldwide. If nothing else, he understands his reputation is forever linked to that of Edward Cullen, and there's no point in condemning that.
"It's also like, you fucking did it," he said. "It's you! At the end of the day, the behind-the-scenes shit doesn't matter. It doesn't matter."
Because Pattinson backed away from movies that carry the potential to top the box office, he was surprised to learn that talk shows would still book him to promote "Good Time." Was anyone still interested, he wondered.
"I do sort of live in my own world a lot of the time," he said. "I'm pretty ignorant. It's funny ― I've basically, as far as I can tell, been really under the radar for years. I'm kind of surprised at it all. [...] I thought I had really reached a hyper-saturation point. And also I think you just keep repeating yourself all the time, and you need to re-form yourself before you have anything to say. I didn't have anything to say for years. I still don't really have anything to say."
Except he does. "Good Time" was his most immersive filmmaking experience to date. A London native, Pattinson embedded himself in Queens, mastering the New York borough's native accent, losing weight so Connie would look slightly malnourished, and living in a low-rent basement apartment. The story takes place over the course of a single night, including dashes through the streets in unchoreographed shots that let Pattinson interact with his surroundings organically. In terms of bystanders, he went largely unnoticed. At last, invisibility was his.
Indeed, Pattinson, like his co-star and ex-girlfriend Stewart, has made peace with his fame. Now he's just working to ensure it doesn't affect those who orbit him ― presumably his current girlfriend, singer FKA Twigs, though he didn't mention her by name, and probably wouldn't.
"That's why I'm always relatively open about stuff about myself, and I always try to contain it to that," he said. "You can never tell how someone's going to report something, and how anyone else around you is going to react, because they didn't ask to be talked about. I can take responsibility for stuff I say about myself, but it's the same way I don't like people talking about me."
Pattinson laughed as he said that last sentence, at which point his publicist announced that our allotted interview time had ended. I shook his hand and strolled out of the Bowery Hotel. It had been less than half an hour since I arrived, and the paparazzi lineup had doubled in size. Pattinson's new moon isn't without its old tricks. At least there was no need to be sorry.
"Good Time" is now playing in select theaters.
Popular in the Community