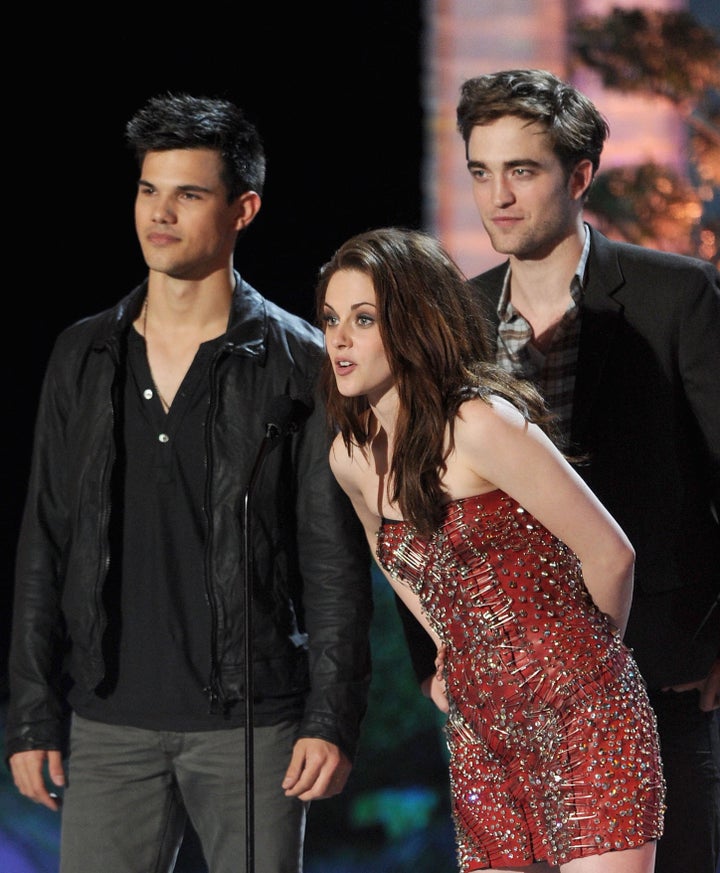 From the moment Robert Pattinson won the first award -- Best Male Performance -- at the MTV Movie Awards Sunday night, "The Twilight Saga" sunk its teeth into the show and didn't let go.
Nominated eight times, "The Twilight Saga: Eclipse" took home five awards, including Best Movie, Best Fight and Best Kiss. For that last award, the film was nominated twice -- Kristen Stewart got nods for kissing both Robert Pattinson and Taylor Lautner -- but its celebration was especially memorable, as the two guy stars pitted against each other swapped spit in celebration.
Pattinson to present an award, too, though that one didn't go so well. Speechifying alongside Chelsea Handler and Patrick Dempsey in a tribute to Generation Award winner Reese Witherspoon, Pattinson went off script to bungle a joke about having once played Witherspoon's son in a scene eventually cut from "Vanity Fair," and then her lover in the film, "Water for Elephants," which was released this year.
"I didn't cut you out, but I did f*** you," he said -- and without bleeping, as the censor missed the unexpected bomb.
Witherspoon later corrected him in her acceptance speech, saying, "By the way, Rob, the punch line to your joke was, I played your mother, then we had a sex scene, so really you're the best mother f*cker in Hollywood.
Calling all HuffPost superfans!
Sign up for membership to become a founding member and help shape HuffPost's next chapter