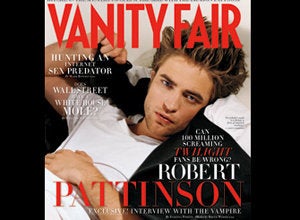 "Twilight" heartthrob Robert Pattinson graces the December cover of Vanity Fair. Inside, the brooding Englishman talks about auditioning for his star-making role, his lonely life, and his costar Kristen Stewart, with whom he's been linked in the tabloids.
The press release is below, and more pics from his VF shoot are here.
NEW YORK, N.Y.--Robert Pattinson tells Vanity Fair contributing editor Evgenia Peretz that the rumors of his secret relationship with Twilight co-star Kristen Stewart are untrue. "It doesn't make any difference what you say [to the tabloids]. I've literally been across the country [from Kristen], and it's like 'Oh, they were on secret dates!' It's like 'Where? I can't get out of my hotel room!' " As for Stewart, she sounds significantly more fed up about the whole thing: "It's so retarded," she tells Peretz. "We're characters in this comic book."

For the record, Pattinson insists that he and Stewart are really just "good friends," and that he deeply admires her. "I think she's the best young actress around," he tells Peretz. "She's influenced how I've done all the Twilight stuff. It's quite nice to have someone who is genuinely indifferent to the whole spectacle of everything."

Twilight director Catherine Hardwicke tells Peretz that the young co-stars shared major chemistry while filming. "What Rob and Kristen had is a multitude of feelings for each other. Complex feelings for each other. It was what we needed. Complex, intense fascination."

Before his Twilight audition, Pattinson tells Peretz, he had never read the Twilight books, had been "getting drunk for a year," felt like a blob and dreaded having to take his shirt off, which the audition required of him. Having nothing to lose, he went in "a little more brazen than I would have been in a normal audition." Recalling one of the scenes he did with Stewart, on Hardwicke's bed, in which he and Stewart have a passionate but aborted kiss, he says, "I was still in the mode thinking, I've got to make this really, really serious. This is not just a sexy thing.... I was slamming my head against the wall and kind of going nuts." He was sure he had made a complete ass of himself. "I remember calling my parents and saying, 'That's it. I'm not doing this anymore.' And then hearing, 'O.K., fine,' which was not the answer I wanted to hear at all."

Hardwicke tells Peretz that people at the studio had their doubts about casting Pattinson as Edward Cullen. "They called me up and they literally said, 'Catherine, do you think you can make this guy look good?' So I said, 'Here's what I'm going to do. I'm going to get his hair back to a different color, do a different style. He would work with a trainer from now on. My cinematographer is great with lighting. He will study the cheekbones, and I promise you, we'll make the guy look good.' "

Of his newfound fame, Pattinson tells Peretz, "I'm trying not to drown." He continues: "I guess I'm not the type of guy cut out to do a franchise. I'm not much of a crowd person."

Peretz describes Pattinson as self-conscious and self-deprecating, constantly apologizing for being boring, for telling you a story you might have read somewhere else already, or for the mess in his hotel room. "I'm unbearably self-conscious about stuff," he admits. He tells Peretz that he thinks he resembles "a cartoon character," and that one of his legs is longer than the other, which makes him look "like an idiot." Of his brief stint as a model, he tells Peretz, "I was such a terrible model. I was really tall but still looked like a six-year-old."

Pattinson tells Peretz that there was a point before Twilight where he almost gave up on acting. "I was going to all these auditions and telling everyone how I got fired [from a play in London's West End] because I stood up for my principles, and making up all this bullshit.... I kind of went nuts for a while." He couldn't land another job, stopped talking to his agent, and began performing with a guitar in bars. It was a scene, he recalls a little ruefully, in which "no one gave a shit when you got up onstage."

As soon as he decided to put acting behind him, another role came his way and changed his mind: a BBC thriller called The Haunted Airman, in which Pattinson got to be in a wheelchair and act like "a weirdo. I just changed my whole opinion about everything." The role was one of many out-there characters--or "weirdos," as Pattinson says--that the actor has made something of a specialty. When you play a weirdo, he explains, "you can always have an excuse.... He's a weirdo!"

The December issue of Vanity Fair hits newsstands in New York and Los Angeles on November 4 and nationally on November 10.
Popular in the Community