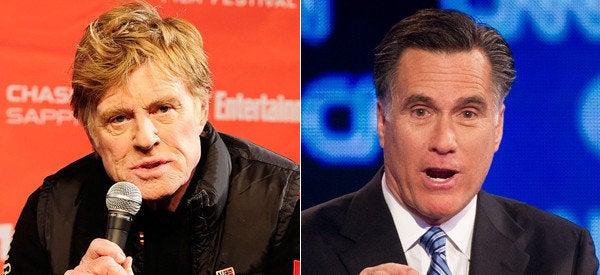 Robert Redford has become well known for his political activism on behalf of the environment (including as a HuffPost blogger), but in his speech at the opening of this year's Sundance Film Festival, he got political on behalf of the industry that first made him famous.
As the founder of the festival, which showcases and gives opportunities to independent filmmakers, Redford hit at politicians who prefer to help big budget studios that toe conservative lines and present little risk.
"In terms of what's going on there... in terms of Mitt Romney, I mean, I'm not going to get into politics. The fact is you can see the (Republican) debates going on, this mushroom cloud of ego hovering over everybody," Redford said (via the AFP). "It's kind of silly and stupid and I'm sorry about it... Mitt Romney can go and see what he wants to see. If he likes 'Transformers,' great, it's there for him, but that's not where we are."
Redford continued his attack, alluding to state-sponsored film funds in Europe and other countries that help filmmakers produce their movies, despite potentially risque messages.
"For years and years and years, you've all experienced what we had to live with, the fact that other countries are far more supportive of their artists than we are," the Oscar-winning actor and director continued. "But when you have congressional narrow-minded people, people who are afraid of change when change is the only thing that succeeds, the only thing we know is going to happen is that things are going to change."
Redford on Wednesday praised President Obama's decision to not support the controversial Keystone XL pipeline, writing in a blog for HuffPost that "Now we need to continue to stand with the president and make it clear that tar sands pipelines are not in our national interest."
Popular in the Community