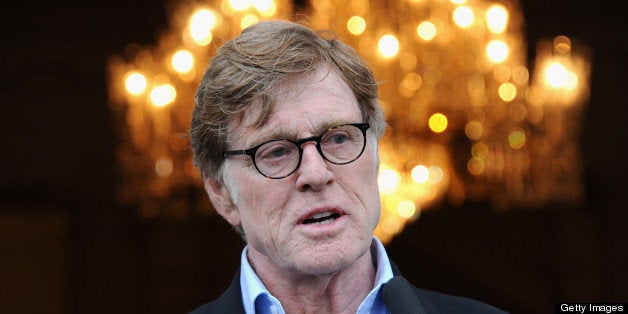 SPECIAL FROM:

"I work because I want to work," says Redford, now 76. "Work keeps me going."
When I interviewed Redford in 1984 for his role in "The Natural," he was defensive about his image as a matinee idol and hesitant to talk with reporters because, he told me, "if you talk about an issue, what comes back is a description of what you're wearing. Reporters only want to know how tall you are and if your teeth are capped." Now 76, Redford has no reason to apologize for his appearance or his life; he has endured as a major talent for a very long time; he is still actively making films and starring in them, and he has turned Sundance into an important institute for independent filmmakers. He is now defying age and arthritis by working hard, playing tennis, skiing and riding horseback through miles of rugged country.
In his current movie, "The Company You Keep," Redford plays the role of Jim Grant, a former member of the Weather Underground that protested the Vietnam War in the 1970's. Redford's face is suitably craggy with deep lines, his sideburns are grey, and his blond hair is darkened by nature or chemical nurture. But to offset these signs of age, Redford runs and jumps fences to find a former lover (Julie Christie) who can clear his name from a murder he didn't commit. Later this year Redford will be the only actor in "All is Lost," a film with no dialogue about a lone survivor who is struggling to keep alive at sea. At first Redford tried to do the stunts himself, but he got battered so badly that he brought back the doubles. "It was ego, sheer ego, and a mistake" he admitted in an Esquire article.
I was working as a free-lance writer for The Wall Street Journal Arts page when I read that Redford was about to emerge from four years of hibernation to make "The Natural," a film based on a Bernard Malamud novel about an aging baseball player. I immediately pitched a story to my editor Ray Sokolov, who was known for his brilliance and eccentricity. He gave me the heads up and offered to send me to Buffalo where the film was being shot in the War Memorial Stadium. ("You can sit in the stands and share a sandwich with Redford," he told me.) I was excited, thrilled, and nervous, knowing that an interview with Redford was a coup and would be big entertainment news. Before confirming a date, his publicist read my article on Katharine Hepburn ("Interviewing Kate the Great"), took me to lunch, and warned me not to ask Redford about his marriage or his three children or any personal factoid that he might consider intrusive.
After agreeing to an interview, she stalled me until May with lame excuses: Redford was out of town, or still filming, or in the cutting room. By this time all my friends knew about the pending interview. My female friends were filled with envy; my male friends debated hotly how tall Redford was, sparked by a story in New York Magazine. Bets were on that he was only 5'6." So I had two agendas: (1) Interview him (2) Measure him!
Finally, we met in mid-May in his office in Rockefeller Center. I dressed up: chic suit and 3" heels (making me 5'8"). Redford dressed down: jeans, plaid shirt, and cowboy boots. But I looked up (not down) when we stood and shook hands and, despite my long wait, I melted immediately: His smile was electric, his eyes bright blue, and he had the kind of craggy good looks that made you wish you'd been with him in the storm.
He was a comfortable kind of guy, surrounded by old-fashioned furniture and family photos and it was easy to strike a rapport. We talked about his youth in California, where his father taught him to hit, pitch, and run bases; his brief attendance at the University of Colorado on a baseball scholarship, where he drank too much, studied too little, lost his scholarship, and took off for Europe to make his way as a painter. When he returned, he married Lola Van Wagenan, a blonde-haired Mormon from Utah who was a stabilizing influence on him. They settled in Manhattan and lived frugally.
Redford studied stage design and then drifted into acting, tapped for roles in Grade B TV films. His big break came in 1963 when he played opposite Jane Fonda in Barefoot in the Park, a Neil Simon play that established him as a romantic lead who could also play comedy. The success led to more offers, but Redford didn't want to be typecast as a blonde-haired Romeo; instead he selected dramas like Downhill Racer that maximized his athletic skills and The Candidate that appealed to his political interests and idealism. After a string of successful movies, including the 1973 hits The Sting and The Way We Were, he bought more land in Utah, where he could ride horses on lonesome miles of empty land.
As our talk progressed, Redford told me about his discomfort with the trappings and obligations of success. "You can't help but be flattered by the attention of people like you," he explained. "But the sad part is losing a part of yourself that got you there… you have to figure out a solution and for me, it's protecting my private life and being selective about when you step out."
So after winning an Oscar in 1980 for directing Ordinary People, he retreated from filmmaking and did not emerge until 1984 to play Roy Hobbs in "The Natural." The film was dear to his heart, because, he said, "I thought the film would represent a mix of this country's spirit… its success and failure and dreams, innocence and depravity all rolled into an allegorical story… it seemed to be the right time to do a film about strength and struggle and optimism that's hard to come by these days."
He also talked at length about Sundance, still a nascent endeavor, politics, and the environment. At one point he told me how thrilled he was to be interviewed by The Wall Street Journal. I wanted to punch him and ask, "So why did it take so long to set an interview date?" but I was too polite.
I handed in my article a week later on a Friday. On Monday Ray called to tell me there was an eight-page cover story on Redford in Newsweek and the story was almost identical to mine. So he refused to publish my article because, he said, it looked as though I had cribbed it from Newsweek. And The Journal was too important to be upstaged.
I was furious with Redford's office: If Redford was going to carry on about reporters who misrepresented him, his publicist should have been more upfront with me. After stewing for several days, I contacted a syndicate and sold the article to many well-read magazines overseas, managing at least to make more money than I would have received from The Journal.
Despite this experience, I'm still a Redford fan and think he's a very good guy who is still wary of the public and still wrestling with issues about his image. I adore his films with Newman and his romantic comedies (sorry Bob!) and, after I saw him in "The Company You Keep," I told my partner John proudly, I interviewed that man! And, believe it or not, John never asked: How tall is he really? And are his teeth capped?
Barbara Lovenheim, founding editor of NYCitywoman.com, has written on lifestyle and the arts for The New York Times, New York, The Wall Street Journal, and many major magazines. She is the author of "Survival in the Shadows: Seven Jews Hidden in Berlin" and other books.
Read more on NYCity Woman:
Calling all HuffPost superfans!
Sign up for membership to become a founding member and help shape HuffPost's next chapter