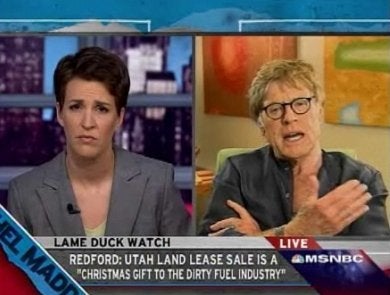 "Just do something with it," the shooter said a little gruffly to the man who for years was the biggest movie star in Hollywood, a respected and Academy Award-winning director, and the founder of the indie film mecca/filmmaking student's wet dream, the Sundance Festival and Institute. Even today, at 72, he drew a line far around the block to get to hear him for 45 minutes and filled every seat to watch a remastered version of Butch Cassidy and the Sundance Kid.
"Sounds like I better leave the room for that," I said. Redford looked momentarily awkward and unsure of what, exactly, to do with the shining thing except hold it and smile. But, in another split second, he was transformed for the camera into the presence that caused one of his directors, Ivan Reitman to say, "Whoa! The light just goes into his body and shines out!"
We were supposed to be talking before we went out for the onstage interview. Instead, while he was going through his award photo/celebrity waterboarding, on the Castro mezzanine I met his fiancee, artist Sibylle Szaggars (they're getting married soon, she said), who was gracious and relaxed, and his two good-looking and polite grandkids.
The last time I'd seen Robert Redford was sometime in the mid-70s when he was at the now deceased San Francisco Press Club for a press conference about environmental issues. We talked for awhile and took a little stroll down Post St. One of the topics was my cousin, Jeremy Larner, who'd won an Oscar for writing Redford's film, The Candidate. Then freelance (now Chronicle veteran) photographer Fred Larson snapped a few pictures, one of which was briefly projected onto the Castro screen during our Q & A. Redford looked easily recognizable as the same person today. I had what my wife calls the Welcome Back Kotter hair, and didn't. Flared pants, both of us. It was a long time ago.
Backstage, after they ran some of his film clips, he grumbled a little about Festival chief Graham Leggat's second reference in his intro to "40 years ago" about the film. Still, Redford told one young woman without hesitation that he'd actually starred in his first film 47 years ago.
We also talked about our respective ruined academic careers, the passing of his old friend and director, Sydney Pollack and how Pollack and my favorite, Wilfred Brimley, who acted in The Natural, were such eerily natural actors, so comfortable in their characters.
In the official interview, he was more candid than I'd seen him in some other settings. Everything from Bob Woodward's pyromania (that story is in the clip below) to a young Redford's dog getting hit and killed by a car right in front of him.
But one of the most interesting comments was about celebrity. I repeated a quote from Pollack: "There's part of him that likes being worshipped and part of him that's self conscious and embarrassed about it." Redford conceded that some parts of being famous made him feel good, that he liked them. Then, at the Festival dinner, I sat next to him as he fielded a lot of worshipers. He was charming, like many of his screen characters, but clearly in watching him, he does not seem to be a real fan of public adulation deep under his skin.
During the long night's ceremonies, both he and his fiancee talked about how they kept from being consumed by what he once said was "a business that will eat you alive." To prep for the interview I'd watched his daughter Amy's film, The Guitar, her first directing job. Pretty interesting and provocative, but I wondered if he worried about Hollywood cannibalism in her case even though he'd clearly managed it fairly well himself.
Another thing I did to get ready was call Carl Bernstein and ask about Redford during All The President's Men. Carl said he and Bob Woodward were originally planning on writing about the Watergate burglary, including an early opening chapter where Martha Mitchell was held captive and shot up with tranquilizers to keep her quiet about what she knew after the break-in. "Redford contacted us before the Watergate hearing" where all the facts came out. "He did understand the narrative appeal very early on, before we did."
Redford's career has been called charmed, and Pollack has said he has a really "smart nose." At the Film Festival dinner, in his tux, he was clearly sniffing the air for sincerity.
Video of the entire program is below.
All video by Jason Wolos.
Popular in the Community