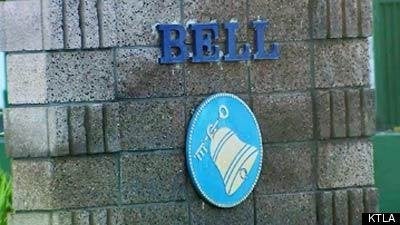 BELL, Calif. -- Bell, one of the poorest cities in Los Angeles County, is coming under fire for its hefty salaries paid to city leaders, including the city manager who rakes in nearly $800,000 a year.
Bell's Chief Administrative Officer Robert Rizzo gets an annual salary of $787,637, and the city's police chief makes $457,000 a year -- about 50-percent more than Los Angeles Police Chief Charlie Beck and more than double New York City's police commissioner.
Assistant City Manager Angela Spaccia makes $376,288 annually, more than most city managers.
Rizzo's contract calls for 12-percent raises each July, the same as his top deputy, according to documents obtained under the California Public Records Act.
Rizzo, who has run Bell's day-to-day civic affairs since 1993, was unapologetic about his salary -- which is nearly twice as much as President Obama's reported salary of $400,000 a year.
"If that's a number people choke on, maybe I'm in the wrong business," he told KTLA partner, The Los Angeles Times. "I could go into private business and make that money. This council has compensated me for the job I've done."
Spaccia agreed, adding: "I would have to argue you get what you pay for."
Even the city's mayor is defending the salaries, saying the community credits Rizzo for the city's success.
Bell has less than 40,000 residents. Its per capita income is about half that for the U.S.
By comparison, Manhattan Beach, a far wealthier city with about 7,000 fewer people, paid its most recent city manager $257,484 a year. The city manager of Long Beach, with a population close to 500,000, earns $235,000 annually.
The salaries do not appear to violate any laws, said Dave Demerjian, head of the Los Angeles County District Attorney's Public Integrity Division. State law governs how much city council members can be paid, but not the amounts that council members decide to pay administrators, Demerjian said.
The district attorney is looking into the salaries of Bell's City Council members -- about $100,000 a year for part-time positions. Normally, council members in a city the size of Bell would be paid about $400 a month, Demerjian said.

Calling all HuffPost superfans!
Sign up for membership to become a founding member and help shape HuffPost's next chapter