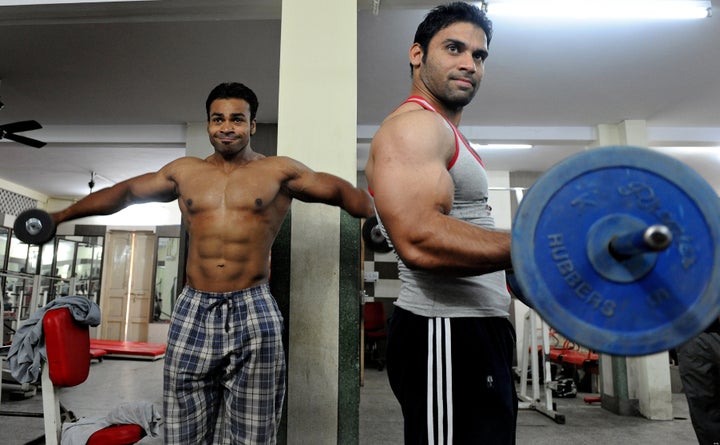 WASHINGTON -- The owner of Gold's Gym International is defending his $2 million donation to the conservative political group American Crossroads, saying that it has nothing to do with his personal or his company's stance on social issues. But the spotlight is now being turned on a hotel chain he owns, with a prominent gay rights group saying it may think twice before booking events there.
"The facts are so distorted," Robert Rowling, head of TRT Holdings -- which owns Gold's Gym -- told Fox News, saying the donation was all about "fiscal sanity." "I've never heard one discussion of a social issue," he said, adding that American Crossroads "supports conservative candidates, and even though those candidates may disagree with them on social issues, the resounding issue is fiscal responsibility."
Change.org recently launched a petition urging Gold's Gym to stop "supporting anti-gay politicians." The effort has almost 5,000 supporters and LGBT activists have vocally spoken out and condemned the company.
But TRT Holdings also owns the Omni Hotels, which may be facing increased heat in the coming days.
"We're concerned about the massive infusion in corporate money being poured into campaigns in an effort to influence the governance of the country," says Rea Carey, executive director of the National Gay and Lesbian Task Force. "This is extremely disturbing to many, including ourselves. As for the Omni Shoreham, we have used it in the past as an event venue, but have no current plans to do so. We do take such issues into consideration when looking at venue options."
The Omni Shoreham in Washington, D.C. is a popular hotel and venue for conferences and events, and just one of several dozen of the brand's locations.
This is not the first time the Omni Hotels have been embroiled in controversy over LGBT issues. Last year, a Dallas Omni chain agreed to offer domestic partner benefits in response from city officials and the North Texas GLBT Chamber of Commerce.
"The Human Rights Campaign has not used an Omni Hotel in a long time," said Fred Sainz, HRC's vice president of communications and marketing. "We also have no plans to boycott the hotel chain. We generally don't agree with boycott as they impact people well beyond the owners of the hotel."
While HRC didn't go as far as the Task Force, it did stress it was "concerned about the influx of a lot of anonymous money into this election." Omni did not return The Huffington Post's request for comment.
On Monday, the four Bay Area franchises of Gold's Gym said they would be splitting with the parent company. "For every dollar we pay Gold's Gym in franchise fees, we will donate an equal or greater amount to LGBT charities," wrote Don Dickerson, the director of operations for Gold's Gym Bay Area, in a Facebook message.
Rowling and Gold's Gym International are hitting back on the franchise. In a statement to The Huffington Post, the company said that the implication that the Bay Area's decision to leave the brand as a direct result of Rowling's donation is "simply not true."
"Discussions surrounding the termination of the Jackovics' [owners of the Bay Area gyms] franchise agreement with Gold's Gym began many months ago due to completely unrelated matters," read the statement from Gold's Gym International. "In fact, the Jackovics informed us of their intent to sell two of their Gold's Gyms in March of this year and completed the sale in June as part of their planned exit strategy. While there is no doubt that Gold's Gym San Francisco has been a pillar of the LGBT community, to say that they left the Gold's Gym brand because of the American Crossroads donation would be disingenuous." Rowling gave a similar statement to Fox News, and Dickerson told The Huffington Post that he would be issuing a response later on Tuesday.
The current controversy is reminiscent of the pressure that Target received after its CEO donated $150,000 to MN Forward, a Republican-friendly group that had given money to a Republican candidate who opposes marriage equality. The company had traditionally been known for its LGBT-friendly policies and sponsorships of events.
*************************
What's happening in your district? The Huffington Post wants to know about all the campaign ads, debates, town halls, mailings, shenanigans, and other interesting campaign news happening by you. E-mail us any tips, videos, audio files, and photos to election@huffingtonpost.com.
Calling all HuffPost superfans!
Sign up for membership to become a founding member and help shape HuffPost's next chapter