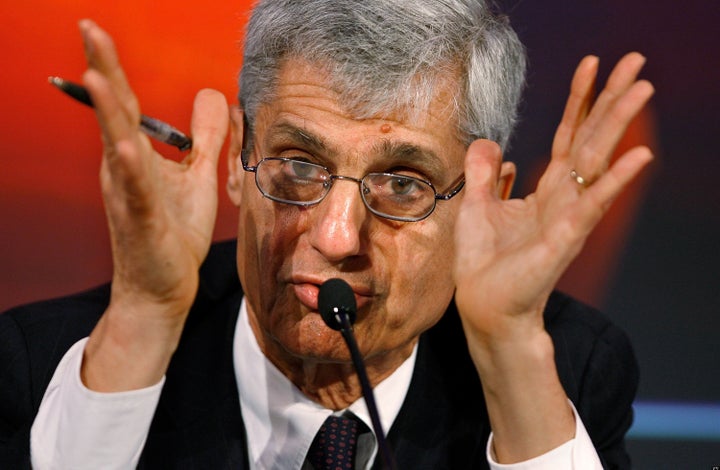 Robert Rubin, the former Clinton-era Treasury Secretary and noted champion of deregulation, told a New York City audience last night that "virtually nobody" -- himself included -- foresaw the financial meltdown.
In a discussion at the 92nd Street Y cultural center, Rubin touched on the financial crisis, Obama's economic policies and America's potential in the new global economy -- but not on financial reform or the deregulatory agenda of the 1990s. The former Citigroup director, gloomy about the country's short-term economic prospects, cautioned against taking too seriously some recent positive economic indicators -- such as the country's 5.9 percent growth last quarter.
Rubin, who has also served as chairman of Goldman Sachs, said that while he became concerned about market "excesses" in 2005 and 2006, he failed to take account of all of the factors that would coalesce into the crisis. During his time at Citigroup, Rubin reportedly pushed the financial behemoth to take riskier bets, including investing in the subprime mortgage market, which imploded in 2007 and instigated the crisis. Next month, Rubin will be grilled by the Financial Crisis Inquiry Commission, which is investigating the causes of the economic slump, notes Bloomberg News.
Much of the blame for the current crisis falls on the shoulders of the fiscal policy decisions of the Bush administration, Rubin said, under which "we lost a decade to some extent." The country faces "tremendous headwinds," Rubin added, including mounting foreclosures, a "paucity of credit" for small- and medium-size enterprises, a jobs crisis, income inequality and declining infrastructure.
But now, post-crisis, Rubin said that Obama's economic policy team is caught between two imperatives: an escalating deficit and a pressing need for further stimulus. Policymakers must find "some way to move on both fronts at the same time," he said, but ours is "as uncertain a time as I can recollect." Though he hasn't been a visible player since offering advice to Obama during the transition in late 2008, Rubin told the audience that he regularly talks to White House economic adviser Larry Summers.
President Obama's failed proposal for a deficit commission was the right idea, Rubin said, arguing that government needs a way to both expand its stimulus program and simultaneously outline a credible long-term plan to reduce the deficit.
The market-centric confidence Rubin was known for during his days as a member of the "Committee To Save The World" -- along with Alan Greenspan and Summers -- was generally subdued. "Whatever your judgments," he counseled, "be careful with your conclusions. Attach a much higher level of uncertainty than you normally would."
Related
Popular in the Community