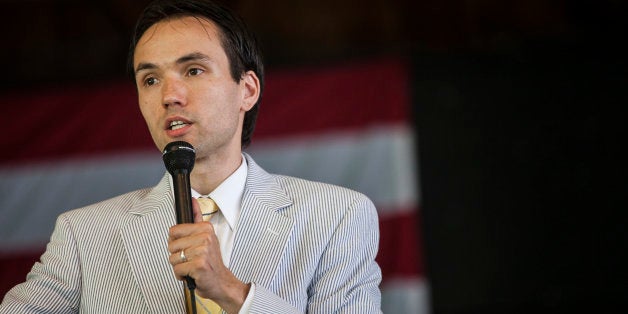 VIENNA, Va., Oct 22 (Reuters) - Crisscrossing Virginia in a black Dodge van, Robert Sarvis has brought his Libertarian message to voters in high school auditoriums, retirement centers and craft fairs in a seemingly quixotic campaign for governor in a crucial battleground state.
But the 37-year-old lawyer, who supports legalizing pot, gun rights and same-sex unions, has proven to be more than a fringe candidate. Polls show Sarvis is headed for the best performance by a third-party candidate for governor in Virginia since 1965.
In the process he is stealing potential votes from front-running Democrat Terry McAuliffe and Republican Ken Cuccinelli, two nationally known candidates who have attracted record out-of-state funding to the hotly contested governor's race.
Two weeks before the Nov. 5 election, Sarvis has drawn nearly 10 percent of support in polls, a showing he said was a sign of voters' disgust with the major parties, especially over the government shutdown.
"People want something new," Sarvis, a one-time software engineer with mathematics degrees from Harvard University and Cambridge University, told Reuters during a campaign stop at a northern Virginia high school.
The race to replace Republican Governor Bob McDonnell is seen as a test of strength for Democrats and Republicans ahead of 2014 midterm congressional polls.
If Sarvis sustains support, his showing would be the best in decades for the Libertarian Party, which values personal liberty and wants to limit government, favoring market competition, lower taxes, gun rights and the end of prohibitions on illegal drugs. A recent poll showed 60 percent of Americans said a third major party was needed.
A supporter of same-sex marriage, Sarvis tells audiences that his marriage to a black pediatrician would have been illegal in Virginia 50 years ago. The couple have two children.
"(He) is the third name on the ballot in a year when people don't like the first two names on the ballot," said Stephen Farnsworth, a pollster at the University of Mary Washington in Fredericksburg, Virginia.

Sarvis, who is half Chinese and half white, said his support was growing while the other candidates attacked each other.
"I like to say I have a $20 million budget, but I outsourced the attack ads to the other candidates," said Sarvis, who has put 17,000 miles (27,000 km) on his van driving himself around during the campaign.
Both major parties are spending heavily to win a race they see as a national referendum.
McAuliffe, a businessman best known as a Democratic Party fundraiser, and Cuccinelli, the state's attorney general and an opponent of abortion and same-sex marriage, have raised $43 million between them, according to the nonpartisan Virginia Public Access Project. Sarvis has raised about $93,000.
The McAuliffe-Cuccinelli campaign has been relentlessly negative, and the Tea Party favorite has been especially damaged by the Republicans' shutting down the government and balking at raising the U.S. debt limit.
Sarvis has drawn fire from the Cuccinelli campaign on concerns he is siphoning off votes from the Republican, who is trailing in polls with 38 percent to McAuliffe's 46 percent, an NBC4/NBC News/Marist College poll showed on Friday.
"There's no question that a vote for Robert Sarvis is (a) vote for Terry McAuliffe and a vote against liberty," Cuccinelli campaign spokesman Richard Cullen said in a statement.
Sarvis has 9 percent of backing, the poll showed, campaigning on an agenda that supports term limits for elected officials, privatizing liquor stores and easing abortion restrictions.
"When I drive around the state I get a lot of people who honk their horns and give me thumbs up," he said. "This campaign is really about showing that a mainstream, moderate Libertarian has a lot to offer." (Reporting by Ian Simpson; editing by Prudence Crowther)

Support HuffPost
The Stakes Have Never Been Higher
Before You Go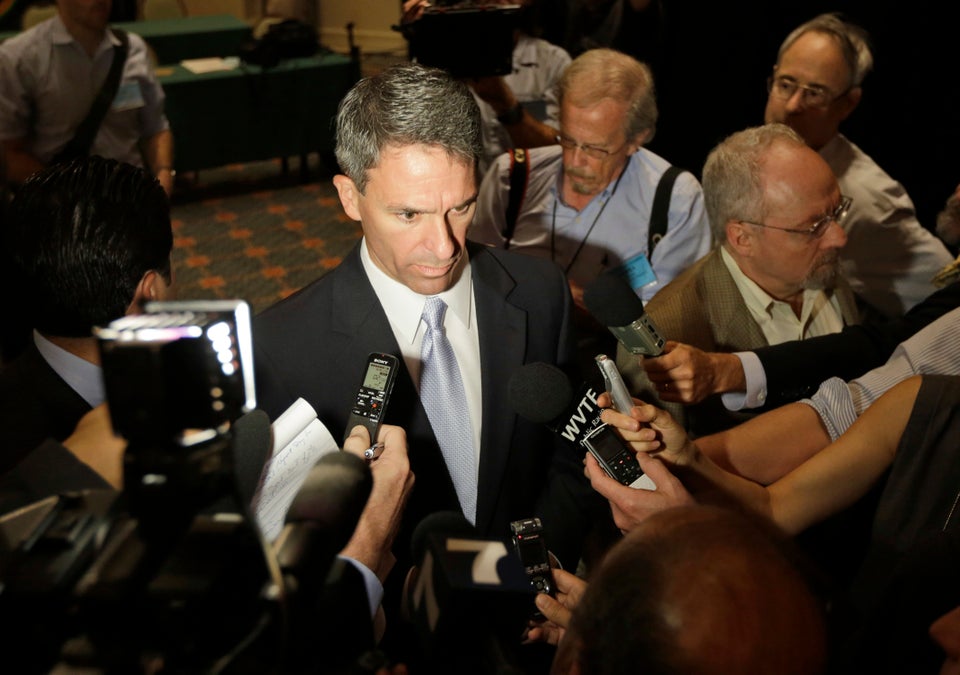 Ken Cuccinelli Through The Years
Popular in the Community