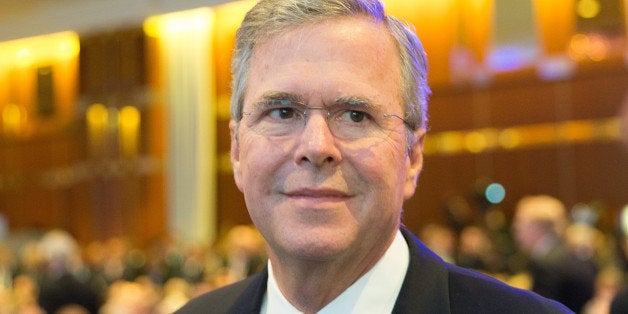 Robert Steinback, the former Miami Herald columnist that Jeb Bush cited in his 1995 writings on shame, distanced himself on Wednesday from the former Florida governor's comments.
Bush cited one of Steinback's columns in a chapter of his 1995 book Profiles in Character, which argues that society needs to "relearn the art" of public shaming in order to deter young teenagers from becoming pregnant out of wedlock and other "irresponsible behavior." The likely 2016 presidential candidate wrote that Steinback had a "good idea" when he suggested young teenage criminals be made to wear pink frilly jumpsuits and sweep the streets of their neighborhoods.
Steinback said in an email that he had no idea Bush had cited his column until The Huffington Post pointed it out on Tuesday, and he does not endorse Bush's argument about shaming unwed mothers.
"Until today, I was unaware that Governor Bush had cited my column on public shaming of juvenile criminal offenders in his 1995 book," said Steinback. "My column made reference only to young offenders who often harbor a mistaken romance about jail and prison, and might consider incarceration a perverse badge of honor. I suggested that sentencing them to wear frilly pink jumpsuits and performing a public duty such as street sweeping in their own neighborhood might serve as more of a deterrent than jail time. I made no mention of using such a tactic with unwed pregnant teens. In fact, I would consider such a policy utterly horrific."
"Pregnancy is not and should never be treated as a crime," added Steinback. "Unwed girls in such circumstances are most likely experiencing considerable personal and psychological stress and anxiety that would only be exacerbated by shaming them publicly."
Bush did not suggest in his book that unwed mothers be made to wear pink frilly jumpsuits -- he only said it was a good idea to make teenage criminals do so in order to make them feel a sense of shame. But he mentioned Steinback's column in the same chapter, "The Restoration of Shame," in which he called on society to "ridicule" out-of-wedlock births.
"One of the reasons more young women are giving birth out of wedlock and more young men are walking away from their paternal obligations is that there is no longer a stigma attached to this behavior, no reason to feel shame," Bush wrote. "Their parents and neighbors have become ineffective at attaching some sense of ridicule to this behavior. There was a time when neighbors and communities would frown on out of wedlock births and when public condemnation was enough of a stimulus for one to be careful."
CORRECTION: An earlier version of this story misstated Bush's book title as Profiles in Courage. In fact, it is Profiles in Character.
Calling all HuffPost superfans!
Sign up for membership to become a founding member and help shape HuffPost's next chapter
BEFORE YOU GO