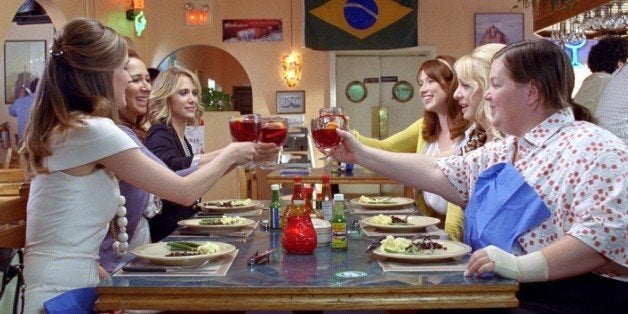 What do Wes Anderson, Paul Feig, Drew Barrymore, Kevin Smith and Robert Downey Sr. have in common? Robert Yeoman, the cinematographer whose work on Anderson's "The Grand Budapest Hotel" makes him a first-time nominee at Sunday's Academy Awards. Yeoman has shot all of Anderson's live-action movies, and his work on three Feig titles -- "Bridesmaids," "The Heat" and the forthcoming "Spy" -- prompted the director to ask Yeoman to shoot his female-centered "Ghostbusters" reboot, too. (No deal has been made on that one yet. "There's always a lot of politics going on," Yeoman told The Huffington Post.)
HuffPost Entertainment caught up with the 63-year-old a few days after the Oscar nominations were announced. In celebration of his wide-ranging career -- which has also placed him behind the camera of films directed by William Friedkin ("Rampage"), Gus Van Sant ("Drugstore Cowboy"), Sally Field ("Beautiful"), Roman Coppola ("CQ"), Wes Craven ("Red Eye"), Peyton Reed ("Yes Man") and Nicholas Stoller ("Get Him to the Greek") -- we selected a handful of films and asked Yeoman to name his favorite scene or discuss one that evolved during the filming process.
"Drugstore Cowboy" (1989)
Yeoman's first solo cinematography credit came with William Friedkin's 1987 thriller "Rampage." He then shot the comedies "Johnny Be Good," "Dead Heat" and "Rented Lips." But no film was as defining as 1989's "Drugstore Cowboy," Gus Van Sant's breakout feature about a heroin addict (Matt Dillon) and his gritty misadventures. Yeoman was 38 when the indie film drama opened to acclaim. The following year, he won the Independent Spirit Award for Best Cinematography. But the touchstone of his time on the "Drugstore Cowboy" set was meeting Beat writer William S. Burroughs, who cameoed (in a role based on one of his short stories) as a priest turned junkie who doles out smack to neighbors in need. Yeoman's fondest memory involves a scene in which Dillon encounters Burroughs and the two stroll down the block discussing the latter's memories of the neighborhood.
Yeoman and Van Sant wanted the moment to stand out, so they shot it using a 300mm lens, which "isolated the characters" in front of the trees that draped the background. "It was something that evolved as we were shooting it," he said. "The day was a very beautiful sunny day in Portland, Oregon, in the fall, which doesn't happen that often. Many people later commented on that scene, saying how beautiful it was, but I think a combination of the light in the park that morning and using that long lens with the shallow depth of field gave it a special kind of quality."
"The Royal Tenenbaums" (2001)
When anyone thinks of "The Royal Tenenbaums," which is often still heralded as Wes Anderson's finest achievement, they think of Margot (Gwenyth Paltrow) stepping off the bus and gliding toward Richie (Luke Wilson) in that beige fur coat as Nico's "These Days" serenades them. Because Yeoman shoots Anderson's projects on film rather than digitally, the inability to rewatch footage instantly means there's no telling how a slow-mo scene will turn out. Yeoman says the "film gods" were on their side that day, providing the proper lighting to burnish Paltrow's windblown bob, Wilson's aviator shades and the white-clad sailors who traipse through the background.
But Yeoman points to a second "Tenenbaums" scene as one of its signature moments: Richie's suicide attempt. After he cuts his hair and shaves his beard with deadened eyes, Richie whispers, "I'm going to kill myself tomorrow." Images of Margot, his sister by adoption and his sweetheart by tacit affection, flash across the screen rapidly before the movie cuts to Yeoman's overhead shot of Richie resting his arms on the sink as rivulets of blood trickle out, surrounded by the hair he's just shed. Elliott Smith's "Needle in the Hay" scores the scene, which is illuminated with hues of blue appropriate for such a dim bathroom suicide.
"I was good friends with Luke, and it was very chilling when we were shooting that scene with the shot where the blood is rolling down the arms into the sink," Yeoman recalled. "I remember when we shot that, even though it was obviously fake blood, everyone was kind of freaked out by the whole thing."
"The Squid and the Whale" (2005)
Filmed mostly using a handheld camera, "The Squid and the Whale" was shot quickly and with a tiny budget of $1.5 million. Noah Baumbach rehearsed extensively with the cast -- Jeff Daniels and Laura Linney play a strained married couple informing their teenagers (Jesse Eisenberg and Owen Klein) of their separation -- before the shoot, knowing they didn't have much time. Yeoman and Baumbach "spent a great deal of time" during pre-production masterminding the logistics of each of the shoot's locations. That made interior shots inside the Brooklyn townhouse simple. The one thing they couldn't overcome, because the story takes place in the 1980s, was the anachronistic cars sprinkled throughout the exterior shots. "We tried to use a shallow depth of field to throw them out of focus and put a few period cars around our main vehicle, but at a certain point we just had to let that go," Yeoman said. "If you look closely, you'll see non-period cars in the background. We didn't have the budget to get more cars."
The other struggle came in shooting Eisenberg jogging briefly through Central Park on his way to the Museum of Natural History toward the end of the film. The production didn't have the money to set up a proper operation, and the city is quite restrictive on shooting in Central Park, so Yeoman poked his camera outside the window of a van that followed Eisenberg as he ran. As soon as they began rolling, a park official, whom "everybody knew was not the most pleasant person," parked next to them and asked what they were up to. "So we just took off," Yeoman said. "We knew we had one take, that was it, so Jesse ran through the park and we were shooting him out the side of the the van and the park guy was chasing us the entire time. [...] We shot on the subways, and you're not supposed to do that either. We took a couple of PA's with us so that when people in the subway who were riding it were looking at the camera or noticing us, we would just have a PA block them so we couldn't see it. A little bit of run-and-gunning, but that was more in the style of that film, for sure."
"Get Him to the Greek" (2010)
"Well, that was a crazy movie," Yeoman said, when asked to recall "Get Him to the Greek." Written and directed by Nicholas Stoller ("Forgetting Sarah Marshall"), with whom Yeoman worked on "Yes Man" (his first studio movie), and produced by Judd Apatow, "Greek" required a raunchy energy suitable for the return of wild rock star Aldous Snow (Russell Brand). It's one of Jonah Hill's standout moments that gave the production pause, though.
Yeoman wasn't sure what would come of the Las Vegas hotel scene in which Aldous and his father (Colm Meaney) give Aaron (Hill), a talent scout at a floundering record label, a "Jeffrey." The "little bit of this, little but of that" joint -- which, according to Adlous, contains weed laced with opium, heroin, Ecstasy, Clorox, methadone, Subutex, morphine, peyote and angel dust -- has Aaron convinced he's having a heart attack. The question was whether to shoot the riotous scene using a practical location or a soundstage. Yeoman and Stoller scouted hotels in Vegas. When they were unable to find a room with which they were "comfortable," the studio requested they build the interior on a stage. No longer reliant on natural lighting, they were able to shoot the rendezvous during the day. "We put backdrops out the windows so we can control the light on them, so it certainly made it way better and easier than what we would have done had we shot it practically," Yeoman said.
The result is one of the film's highlights: Yeoman uses extreme closeups to capture the distress Aaron experiences as Aldous and his father chortle on the opposite sofa. The soundstage also allowed them to construct the "furry wall" the Aldous instructs Aaron to stroke as a source of comfort while the glamour of the opulent hotel room colors his panic.
While in post-production for "Get Him to the Greek," Apatow approached Yeoman about working with Paul Feig, who'd created "Freaks and Geeks" and directed episodes of "The Office," "Arrested Development" and "Weeds." The movie was "Bridesmaids," originally titled "Maid of Honor." Yeoman and Feig became fast friends over lunch and agreed to team up, bolstered by Yeoman's appreciation of Kristen Wiig and Rose Byrne, with whom he'd worked on "Whip It" and "Get Him to the Greek," respectively.
Yeoman says almost every day on the set of "Bridemaids" brought something fresh because scenes were constantly evolving thanks to the improv-capable cast. In fact, the bridal-shop scene in which Wiig, Byrne, Maya Rudolph, Melissa McCarthy, Wendi McLendon-Covey and Ellie Kemper all come down with food poisoning after eating at a Brazilian steakhouse wasn't part of the original script at all. That's the way Apatow, who produced the hit comedy, prefers to work, unlike say, Wes Anderson, whose script is locked down by the time the shoot begins.
"They brought those pages in and said, 'This is what we're going to do,' and I remember at the time being a little horrified by the whole thing and thinking, 'Oh my gosh, how are we going to do this?'" Yeoman recalled of the two-camera shoot. "It's not my style of humor, really, and I just wasn't sure how this was all going to be pulled off. But Paul seemed to have a handle on it, so I said, 'Okay, Paul, you run with this one.' We shot it and I know a lot of people have commented, 'Oh, that was so funny, that was so funny.' I find that I'm sometimes not the best barometer of what people enjoy. That's not something that I personally was a big fan of, but a lot of people really love that scene."
"The Grand Budapest Hotel" (2014)
And now we come to the work that triggered Yeoman's first Oscar nomination. He calls the experience of making "The Grand Budapest Hotel" a "magical fairy tale from beginning to end." That sounds fitting, as the movie plays like something of a fairy tale. Filmed entirely on location in Eastern Germany in January and February 2013, the cast and crew met few sunny days and plenty of snowfalls, just as they'd hoped. The scenery was right, but the timing was murkier: Because of the skies' ashen tones, their window of shooting lasted from 8:30 a.m. until only 4 p.m., when it began to get dark. When they first captured the sequence where the assassin Jopling (Willem Defoe) hunts down the lawyer Kovacs (Jeff Goldblum) in the museum, chops off his fingers and strolls down a nearby sidewalk, Yeoman did his best to overcome darkening skies. He and Anderson later saw the dailies and knew the moment didn't look right.
"Wes said, 'Let's just reshoot it,'" Yeoman said. "Luckily we did because we went back and that particular day a giant fog moved in and had this amazing feeling to the background that hadn't been there when we shot the first time. Our whole goal in shooting these exteriors was natural light without any artificial light being added to it, so we shot it with natural light and the shot turned out way better than it would have the first time anyway."
Before "The Grand Budapest Hotel," Yeoman fulfilled DP duties on "The Heat," starring Sandra Bullock and Melissa McCarthy. That means "Spy," which premieres at South by Southwest next month and opens in May, is his third project with both McCarthy and Feig. The comedy satisfies the director's longtime desire to make a "James Bond" movie. Yeoman cites "Casino Royale" and "Skyfall" as the "mantra" he and Feig used while shooting the action-heavy film, in which McCarthy plays a modest CIA analyst who goes undercover to penetrate a deadly arms dealer's operation. One might assume "Spy" was a relatively comfortable endeavor for Yeoman, but in fact it's the first movie he shot digitally.
"As opposed to past comedies, [Feig] really wanted to make certain scenes very dark and sinister from a cinematography standpoint," Yeoman said. "He really pushed me. It was my first digital film, so Paul was able to see on the monitor exactly what we were shooting and he would often push me to a darker place than what we initially had, which is very different than what I'm used to. Usually directors want to make it much brighter, but he was the opposite. So it's an action-comedy and has a lot of gunfights and fistfights and knife fights and things in the film. Yet it has certain comic Paul Feig aspect to it, as well, obviously -- it's a combination of the two."
Calling all HuffPost superfans!
Sign up for membership to become a founding member and help shape HuffPost's next chapter
BEFORE YOU GO
PHOTO GALLERY
The Wes Anderson Collection