(Adds comment by dissident groups)
By Lesley Wroughton and Daniel Trotta
HAVANA, Jan 23 (Reuters) - A senior U.S. diplomat in Cuba for negotiations on restoring long-frozen diplomatic relations met a group of dissidents on Friday, seeking to underline Washington's concern over human rights but irritating the island's communist government.
U.S. Assistant Secretary of State Roberta Jacobson, the highest-ranking U.S. government official to visit the island in nearly 40 years, held a breakfast meeting with the dissidents a day after talks with Cuban government officials. The State Department said it was an opportunity for Jacobson to exchange views and hear their perspectives.
But Havana has stressed that efforts to normalize ties should not be accompanied by what it sees as meddling in its internal affairs. Cuban officials expressed concern beforehand over the planned meeting, a U.S. official told Reuters.
The head of the Cuban delegation to the talks, Josefina Vidal, was dismissive of the meeting later.
"This is exactly one of the differences we have with the U.S. government because for us, this is not just genuine, legitimate Cuban civil society," Vidal, who is Jacobson's counterpart at the Cuban Foreign Ministry, told the MSNBC television show "Andrea Mitchell Reports," referring to the dissidents.
"This small group of people don't represent Cuban society, don't represent the interests of the Cuban people. So that's a big difference with the United States government," she added.
The Cuban government rarely comments on dissidents, and when it does, it often charges them with being unrepresentative of the population and puppets of the United States.
Thursday's talks about re-establishing diplomatic ties, severed by Washington in 1961, were the first since U.S. President Barack Obama and Cuban President Raul Castro announced on Dec. 17 they would seek to reverse decades of hostility. Obama has loosened a series of restrictions on travel and business with Cuba and wants Congress to lift a decades-old trade embargo on the island.
But the issue of political freedoms was bound to be a point of friction.
Castro has said that restoring ties with its old Cold War foe does not mean Cuba intends to give up its socialist principles. In a statement on Thursday on the talks, the Cuban government said relations between the countries should be based on mutual respect and non-interference in internal affairs.
Nonetheless, Jacobson told reporters after her meeting with the dissidents that human rights and free speech were a priority for the United States.
"There is no doubt that human rights remains the center of our policy and it is crucial that we continue to both speak out about human rights publicly and directly with the Cuban government," she said, adding that Washington has "profound disagreement" with Havana over democracy and human rights.

HOUSE WITH ECHOES OF FORMER TIES
Her meeting with dissidents took place at the residence of the chief of the U.S. Interests Section, Jeffrey DeLaurentis. The house was built by the United States in the early 1950s to represent the importance the State Department placed on its relationship with Cuba at the time. That was just years before the revolution led by Raul Castro's older brother, Fidel Castro, that ousted dictator Fulgencio Batista in 1959.
Among the activists who met with Jacobson was Jose Daniel Ferrer, founder of the Union Patriotica de Cuba (UNPACU), many of whose members were part of 53 political prisoners released earlier this month under a U.S.-Cuba deal to launch the talks.
But the U.S. policy shift has split dissidents between those who support ending U.S. sanctions and those who want improved human rights to be a condition of talks.
The leader of the Ladies in White, who march in Havana every Sunday to demand prisoner releases, boycotted the breakfast meeting because, she said, the Americans were favoring those dissidents who agreed with U.S. policy.
Other dissidents said they would join Ladies in White leader Berta Soler in boycotting a reception with Jacobson later on Friday.
Jacobson told reporters that rebuilding relations would be long and complex, cautioning that it was too soon to judge whether the initial talks could lead to normalization of ties.
"I have learned ... it is never a good idea to draw conclusions after the first discussion," Jacobson said. She added that while in Havana she did not receive any direct messages from either Raul Castro or Fidel Castro, who handed over power to his brother in 2008 because of ill health.
While re-establishing diplomatic ties is a matter of mutual consent between the two countries, the broader goal of normalizing trade and travel faces greater obstacles.
While Obama, a Democrat, has eased some business restrictions, he needs the Republican-controlled Congress to lift the comprehensive U.S. trade embargo. Critics of his policy say Cuba should not be rewarded without changing its one-party system.
As part of the loosened restrictions, MasterCard Inc said on Friday it would become the first company to remove a block on the use of U.S.-issued credit cards on the island, starting on March 1. (Reporting by Lesley Wroughton and Daniel Trotta; Editing by Frances Kerry)

Support HuffPost
The Stakes Have Never Been Higher
Before You Go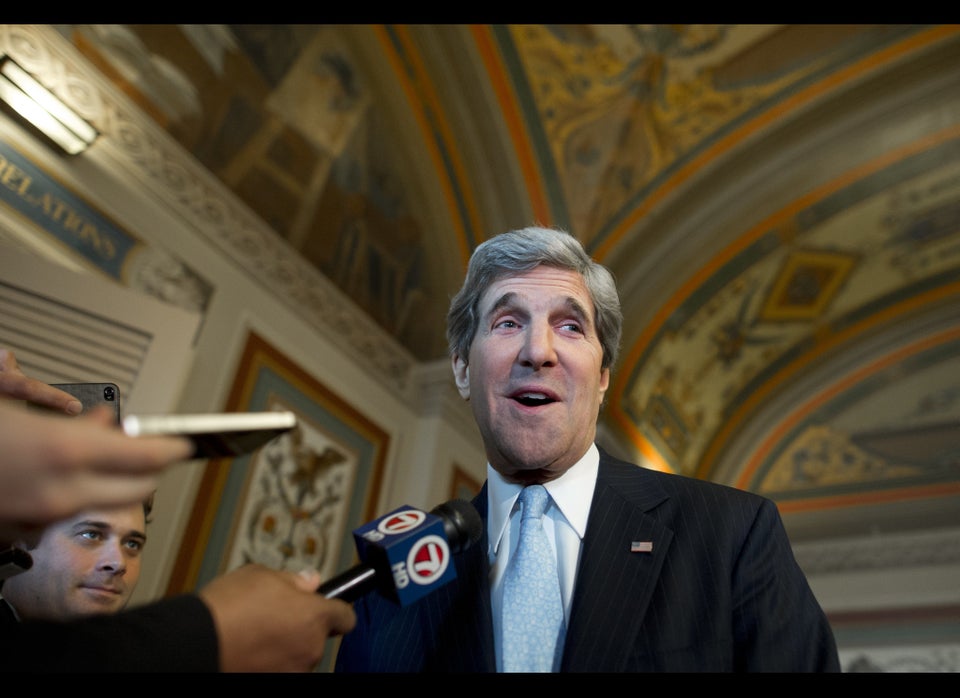 Secretaries Of State
Popular in the Community