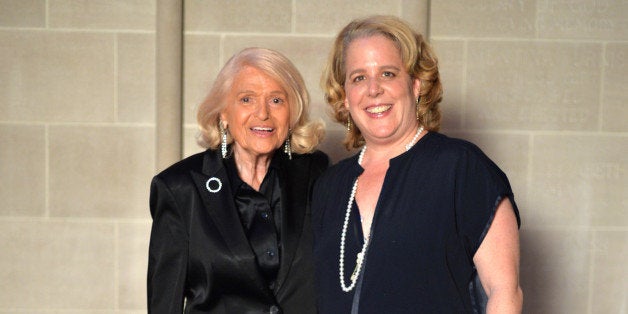 Attorney Roberta Kaplan, who represented Edie Windsor in the landmark case, United States v. Windsor, which struck down the Defense of Marriage Act in 2013, filed suit this week in federal court in Jackson to overturn Mississippi's ban on same-sex marriage on behalf of two lesbian couples: Rebecca "Becky" Bickett and Andrea Sanders of Harrison County; and Jocelyn "Joce" Pritchett and Carla Webb of Jackson, who married in Maine in 2013. Kaplan noted that Mississippi has the highest percentage of gay couples with children, and that was one of the reasons why she thought it was an important case to take.
"They said, 'We need rights. We need to have our families protected the way other families are,'" she told me in an interview on SiriusXM Progress. "I agreed with them. I agreed it was the right time and we put a case together pretty quickly."
The case has been fast-tracked by U.S. District Court Judge Carlton W. Reeves, an appointee of President Obama, who scheduled a hearing for November 12. The LGBT rights group Campaign for Southern Equality is also a plaintiff, and the plaintiffs are also represented by Mississippi attorney Robert McDuff of McDuff & Byrd, based in Jackson.
"We asked the court to kind of, on a very expedited schedule, decide that our clients were right and give them the right to marry at the very beginning of the case," Kaplan explained. "And I have to say, writing the brief — I'm a bit of legal geek, so writing briefs for me is fun, which, already, I admit, is somewhat strange — but writing this brief was one of the best experiences of my life. [That's] because the entire case just quotes case after post-Windsor case, just making the argument over and over and over again for why we're right. Normally in a brief you have to analogize to other situations as to why you're right. Here, we didn't have to analogize. We have 40-plus decisions already deciding exactly the same thing."
Kaplan also weighed in on the U.S. Supreme Court's momentous decision nearly three weeks ago -- what she called its "non-decision decision" -- to let several circuit court decisions stand, bringing marriage equality to many more states but obviously not stepping in to rule on marriage equality for all 50 states, as some had hoped and expected. She referred to Justice Ruth Bader Ginsburg's statements of a few weeks before, in which Ginsburg said the court would likely wait until a circuit court ruled against gay marriage before it stepped in. Ginsburg's remarks seemed to reflect the take-it-slow approach she has telegraphed on the issue in the past.
"Along with [the late Justice] Thurgood Marshall, Justice Ginsburg was one of the greatest strategic litigators of our country's history," Kaplan said."When [Justice Ginsburg] says, 'You know, you guys should take your victories, and let it happen,' you know, call me crazy. But I listen very carefully to Justice Ginsburg, and I tend to take her advice."
Calling all HuffPost superfans!
Sign up for membership to become a founding member and help shape HuffPost's next chapter