Robin Antar is a no-nonsense sculptor who has recently been named the first female artist to be featured at POP International Galleries in New York. Antar creates, as she says in her bio, "virtual records of contemporary culture." HuffPost Arts talked to Antar over the phone, and the Brooklyn-raised artist revealed the inspiration behind her large stone sculptures of commonplace items.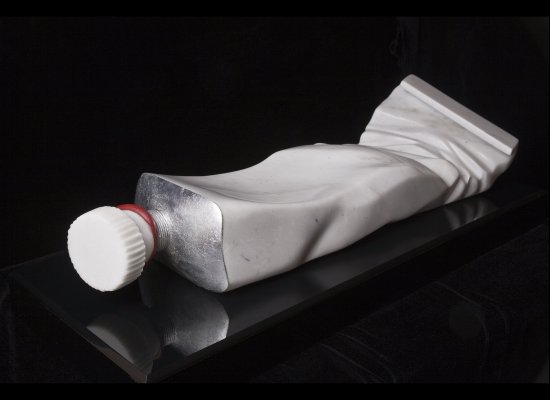 Robin Antar, "Crest toothpaste with Brush" (carved marble and vinyl). Courtesy of the artist and POP Galleries.
HuffPost Arts: Why do you think you are the first female artist to be featured at POP?
RA: What if I was the first female but I was also disabled? (laughs) I'm not kidding. I was born blind in one eye but didn't figure it out until I was 16. The eye doctor never covered my good eye, so I never figured it out until I moved to Brooklyn and went to the eye doctor. When he told me, I looked at him like he was cross-eyed.
On my website, there's are all the works I did when I found out I was blind in one eye. I did a whole series of sculptures. When I did five sculptures I said, "enough of this crap." You go through stages.
HuffPost Arts: Where did the love of condiments came from?
RA: On a personal note I despite them. But after 9/11 I asked: What does America love and represent? America loves comfort food: mustard, mayonnaise, and ketchup. The next project I'm working on is a packet of sugar. You know at a restaurant you have the little paper packets? I'm going to do three different kinds of stone, but I won't put the writing on it. Everyone will know the blue stone is Equal and pink is Sweet and Low. I think I'll do five stones: natural sugar, white sugar, and yellow, blue and pink. That will be cool. They'll be removable, but if it's marble, you don't want them to scratch, so I'll put some rubber at the bottom. They'll be 17" wide.
In my garage I have a 6,000 pound bag of potato chips.
HuffPost Arts: What are you working on now?
RA: Last week I had a bunch of crap going on, so I started a piece called "Balancing Act." That's how I express my feelings. It's a very simple form: a figure shape, but like a ribbon with its feet up in the air, figuring the circle. In the belly of the circle I'm going to put a white ball. If you drill a hole in the stone you'll see the drill hole, so how can I make the drill hole work? I'll put the ball on top like a balancing act. But what if the hole is slanted? How will I mount the ball? That piece might sit there for six months until I figure this out.
Antar's larger-than-life works can be seen at POP International Galleries in New York, including: "Boxing Gloves" (carved Carrara marble and bronze), "French's Mustard" (carved yellow travertine), "Heinz Ketchup" (carved red travertine), "Hellman's Mayonnaise" (carved white travertine marble), "Bag of Oreo cookies" (carved marble), and our personal favorite, "Crest toothpaste with Brush" (carved marble and vinyl).
See a slideshow of her work below, and let us know what you think of these larger-than-life sculptures in the comments section.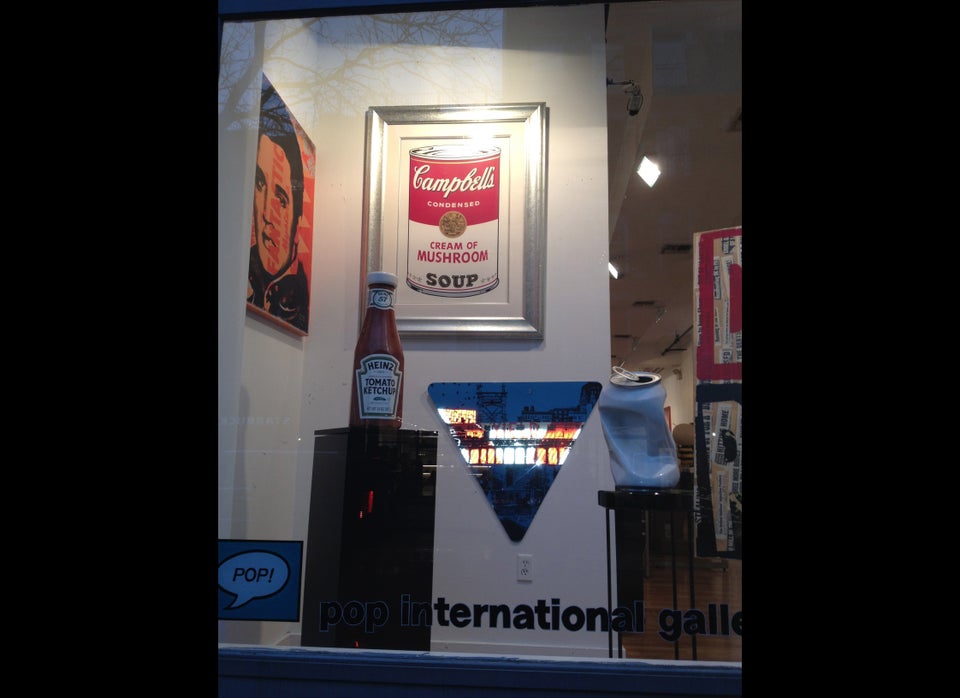 robin antar
Popular in the Community