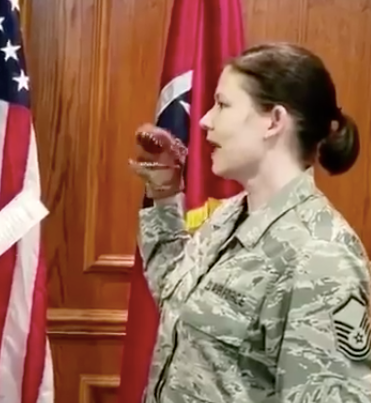 An airman in the Tennessee National Guard has been removed from her position and is facing administrative actions after she appeared to use a dinosaur hand puppet to take her re-enlistment oath.
Master Sgt. Robin Brown, a senior noncommissioned officer with the Tennessee Joint Public Affairs Office, appeared to re-enlist Friday for the Guard by holding a dinosaur puppet in her right hand as she took the oath, according to WKRN-TV.
The ceremony was reportedly not an official re-enlistment, just something Brown created for her children, according to Air Force Times, which pointed out that in a screenshot of a conversation on an Air Force Facebook forum, someone claiming to be from the Tennessee Military Department said it was "not an official reenlistment."
The person on the forum added that Brown "was trying to create something her younger children would enjoy."
Lt. Gen. L. Scott Rice, director of the Air National Guard, griped about the video on his own Facebook page, saying it mocked "a cherished and honorable occasion":
This action goes against our very foundation. Tennessee National Guard leadership is aware and addressing the issue. ... This single act does not reflect the selfless dedication and professionalism shown everyday by the outstanding Airmen of our Air National Guard in their service to our great nation.
On Wednesday, Brown was removed from her post at the Tennessee Guard's joint public affairs office, and she could be facing further administrative action, according to Military.com.
In addition, the colonel who administered the oath was immediately demoted to lieutenant colonel and retired, and another senior noncommissioned officer who recorded the oath was removed from his position as a unit first sergeant and officially reprimanded but will stay in the Tennessee Air National Guard.
Terry M. Haston, the adjutant general of the Tennessee National Guard, apologized on Facebook, saying that "not taking this oath solemnly and with the utmost respect is firmly against the traditions and sanctity of our military family and will not be tolerated."
Popular in the Community