Robin Evans won't come down from her roof. The Kennedale, Texas, resident isn't exactly stubborn -- she's just patient.
She been camping on top of First United Methodist Church, raising awareness for hunger and urging her community to donate 50,000 pounds of food to local Tarrant County pantries since early Friday morning, nbcdfw.com reports.
"We all need to step out of our comfort zones at times to have people take notice," Evans wrote on her Facebook page, Robin on the Roof. "I feel that people as a whole really want to help others, they just may not know where to start for the need is great and can be overwhelming."
This is the third year Evan has pitched a tent and made a temporary home on top of the slanted roof, getting down only to use the bathroom. She holds it June to address child hunger in summer months -- and while last year it took just four days to collect 50,000 pounds of food, this year she told nbcdfw.com she's prepared to stay up there even longer.
Of course this year, her reach has gotten a little wider. Since Evans has a Facebook page for the first time in her roof-adventures, she's inspiring food donations across the country.
"The beauty of it is ... [Facebook users] said, 'We'd love to help, but we're not there,'" Evans told the news source. "And I thought, 'You don't have to be here. Find a food pantry there and just get involved. Give them $5. Go give them a sack of cans,' and they're like, 'Oh, I can do that.'"
At press time, Evans was less than 1,000 pounds of food away from her goal, according to Facebook. She's also set up an online donation site, counting each $1 donated as five pounds of food.
Feeling inspired? Help Evans meet her goal, here, or find a food pantry to support in your own community through VolunteerMatch.
CORRECTION: An earlier version of this story misspelled Kennedale. This error has been fixed.
Check out photos of Robin on the Roof below!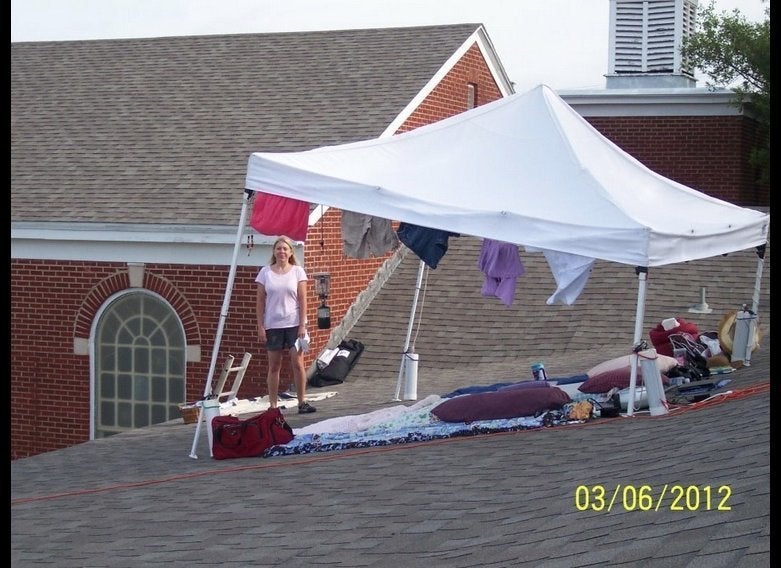 Robin Evans goes to new heights to fight hunger
Related
Popular in the Community