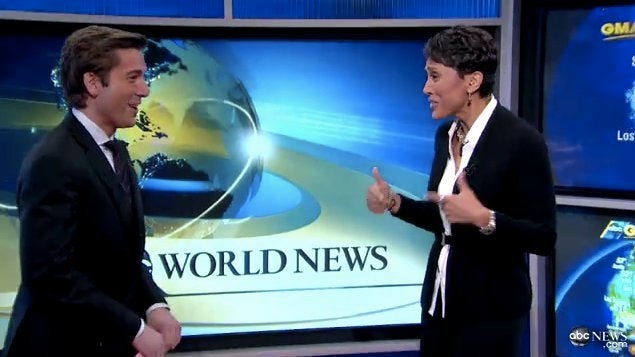 David Muir normally helms the weekend edition of ABC's "World News," but, with both George Stephanopoulos and Diane Sawyer off this week, he's been filling in on "Good Morning America" and the weekday "World News." But Muir's double duty got him into a bit of comic trouble on Friday, when, during the morning's episode of "GMA," co-host Robin Roberts called him out for trying to shift too readily from genial morning host to gravitas-filled evening newsman.
Newsreader JuJu Chang threw to Muir, who began previewing the evening's "World News" in front of a backdrop of the show's graphics. But, as his voice rose and fell dramatically, Robin Roberts walked into the frame and said,"what are you doing? You think you're uptown or something? You're still here!"
It turned out Muir was actually in front of the "GMA" weather wall. "Busted," he said. "Thanks Robin."
"Did you notice that his voice dropped even lower into that gravitas?" Chang joked.
WATCH:
Related
Popular in the Community